The President of Azad Jammu & Kashmir attended Kashmir Conference of The University of Haripur on 19th February 2021
The Kashmir Conference was held at The University of Haripur (UoH) on 19th February, 2021. The Kashmir Conference was the last event of the Kashmir Week 2021 which was celebrated in solidarity with Kashmir.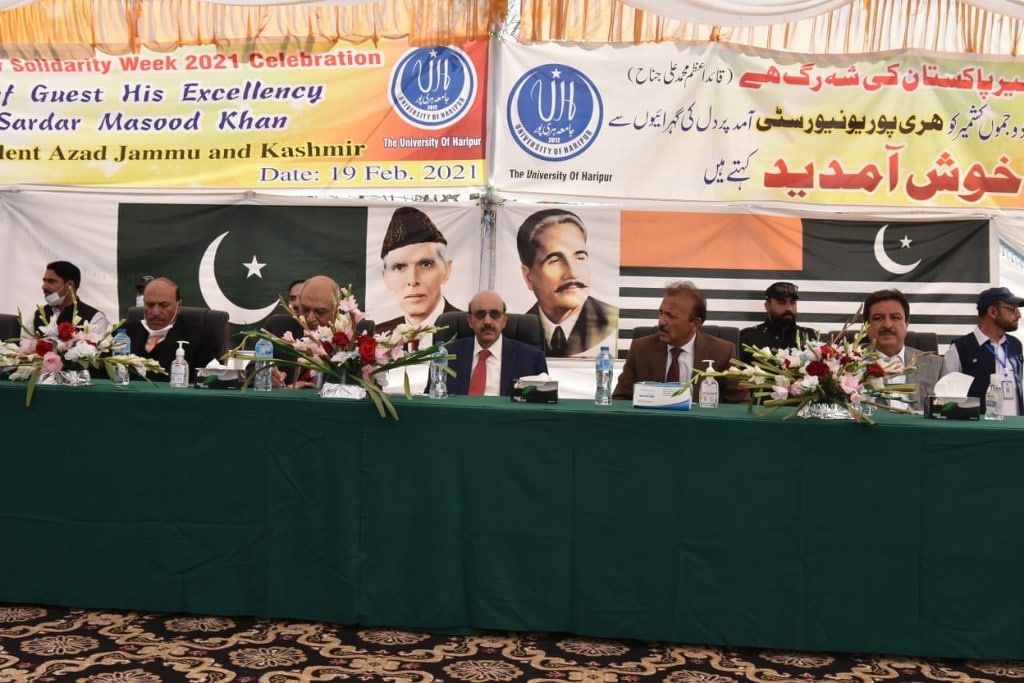 The President of Azad Jammu and Kashmir Sardar Masood Khan was the Chief Guest of the event. Vice Chancellor of the University of Azad Jammu and Kashmir (UAJK) Prof. Dr. Muhammad Kaleem Abbasi along with Deans, senior faculty and Registrar of the university attended the conference. The function was also attended by member Provincial Assembly and member Senate University of Haripur Arshad Ayub Khan, Member Syndicate Justice (retd) Nisar Hussain Khan and Vice President Haripur Chamber of Commerce Amjad Chughtai with Mr. M. Ashraf member Higher Education HCCI as well as students and teachers of both the universities. Prior to the start of the conference, guests planted trees under the University's Green Green Pakistan Tree Planting Campaign. Earlier, DIG Hazara Mirwaiz Niaz, Deputy Commissioner Captain (Rtd) Nadeem Nasir and District Police Officer Kashif Zulfiqar had also planted trees under the campaign.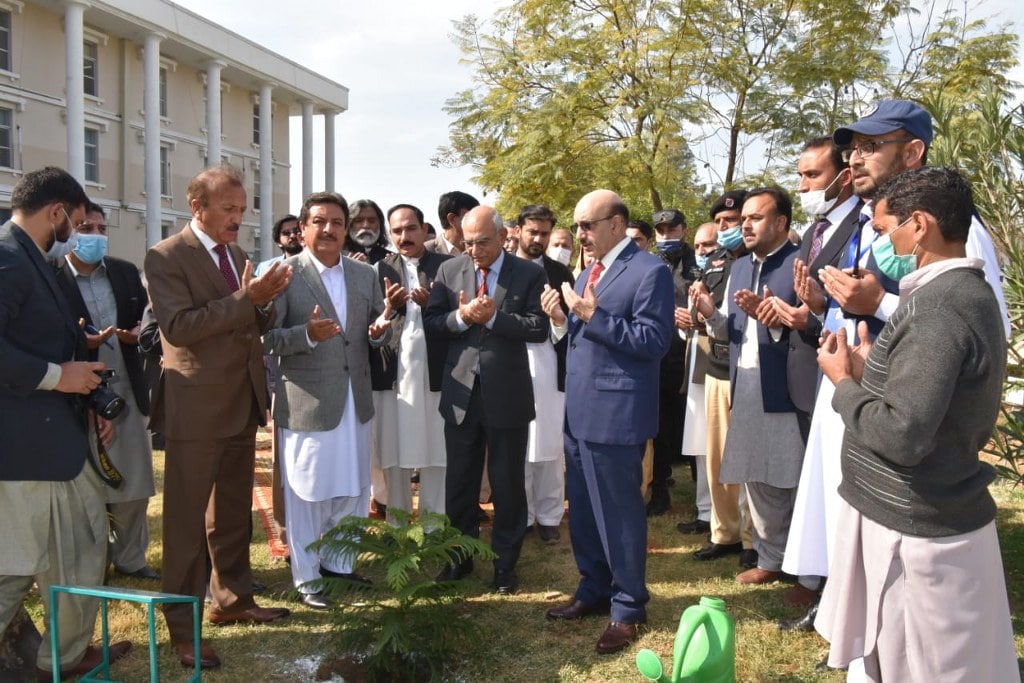 In today's ceremony, the President inaugurated the Kashmir Desk at the University of Haripur. Under this Desk, educational and research projects related to Kashmir issue will be carried out at national and international level. Another highlight of today's event was the signing of a Memorandum of Understanding between Haripur University and AJK University, under which the two universities would jointly undertake various projects in the field of education and research.
Addressing the conference, President AJK congratulated the VC UoH for organizing such a successful conference and thanked him. Referring to the Kashmir issue, he said that he was fortunate to be associated professionally with the Pakistan Foreign Ministry for long where he had the honor of being Pakistan's ambassador to the United States, China and the United Nations. He said that it must be kept in our minds that Pakistan has inevitable importance in the world community, which cannot take any decision without involving Pakistan in regional and global affairs. He said that India has been and is involved in acts of sabotage and harm Pakistan ideologically, economically and politically. India has never accepted creation of Pakistan in subcontinent, it divided Pakistan and is still conspiring for destabilizing Pakistan. He termed spirit of Jihad of Pakistani armed forces and its people and its nuclear capability and side by side the long independence war of Kashmiris the reasons for preventing Indian invasion. He exquisitely explained Kashmir issue and its importance to Pakistan. He thanked the audience for their commitment with Kashmir cause for sparing their time and resources for the rights of the people of Indian occupied Kashmir while the people of occupied Kashmir are shedding their blood. They have been fighting for the last 74 years not only for independence of their homeland but also for safety of the people of Azad Jammu & Kashmir and completion of Pakistan. He further added that the main reason for the suffering of Kashmiri people is their Muslim identity. And whoever is a Muslim, definitely he supports Kashmiri Jihad. Talking about human rights violations in Held Kashmir, he said 14,000 Kashmiri youths were languishing in jails and Kashmiris were facing curfews and they had been deprived of their right to a living, employment and education. He said that India has devised a new heinous plot by resettling 3 million Hindus in occupied Kashmir.
Addressing the students, he said that in the light of his vast experiences, he would definitely say that jihad was the noblest doctrine for self-protection in the world and it was compulsory for the Muslims, especially when others were out to destroy our culture, slaughter our youth and molest women. He termed Jihad as protector of Muslims and Islam, but jihad is not just a name of killing non-believers. Contrarily, as Muslims, along with armed deterrence, we have to confront our enemies in each and every sphere of life and plan appropriately in this effect. He advised them to stop the policy of complaining to the international community and showing helplessness, but need of the time is to become the masters of our own destiny. We must keep in our minds that for attaining rights first one has to prove himself entitled of desired rights and second he has to take away his rights forcefully if not provided, however, this depends upon your capacities, preparation and campaign.
He said that Pak-China corridor can be a game changer for Pakistan. He urged the entire Pakistani nation, particularly youth and more particularly educated youth to work for the integrity and security of Pakistan as well as for the oppressed Kashmiris on every forum across the world. He stressed the need for meaningful and decisive dialogue with the international community for Kashmir's liberation.
He urged the students to develop the advance skills of writing and speaking in English and added that "If you want to influence international decision making you have to speak and write in English. Referring today's celebrations, he said that of course the events organized by the UoH are of utmost importance and he pledged his full patronage towards the MoU signed between both Universities and inaugurated Kashmir Desk.
Earlier, addressing the program, Vice Chancellor UoH Prof. Anwar ul Hassan Gilani thanked the chief guest, VC UAJK, Arshad Ayub Khan and other participants. He also thanked the local political leadership, administration, civil society and media for their full cooperation in development of the University of Haripur. Referring to Kashmir and today's function, he said that since he assumed charge of the office of the Vice Chancellor, he has made Kashmir and the Kashmir issue part of the university's policy on priority. It is policy of this university to give Kashmir a significant share in the admissions and research work of the university, appointment of experts and memoranda of understanding.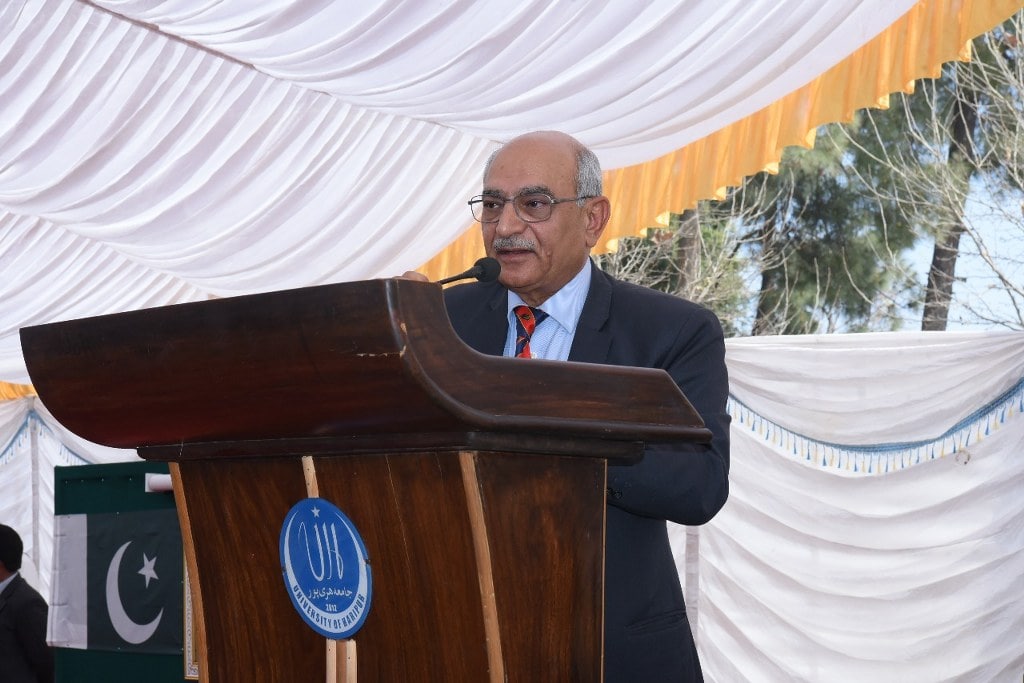 Prof. Abbasi while addressing the conference termed it a very memorable day for him as he himself has been the Vice Chancellor of UoH and great memories were attached with the staff and students of this University. He termed the MoU between the two universities as an outstanding starting point and in this effect, he offered resources of his university for joint endeavors.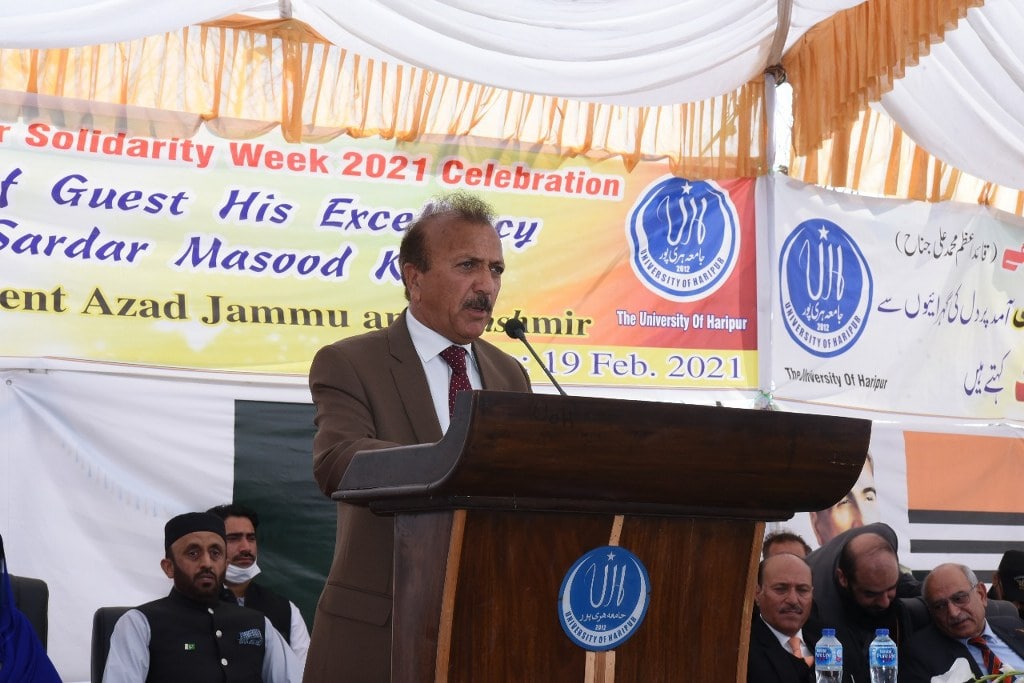 At the end of the ceremony, shields were presented to the guests and group photo session was held.
View More Links: