Our Donors
University of Haripur currently receives Financial Aid from different government, private trusts, foundations, and foreign donor organizations. An overview of these donor organizations is given below.
A: Federal Government of Pakistan
Poverty alleviation is one of the priority areas of the Government and higher education is recognized as a significant contributing factor towards economic growth and human development in a country. The Government recognizes that it can be achieved by making quality education accessible to talented students of all economic background. In this regard, the present government has embarked upon a successful and commendable program in which the students of backwards areas of FATA and Gilgit-Baltistan studying at various Universities were given financial assistance under the "Prime Minister Fee Reimbursement Scheme"
Further incentive by the current federal government in its support to promote and encourage literacy and was distribution of laptops to the talented Graduate and Undergraduate students throughout all universities of the country.
B: Government of Khyber Pakhtunkhwa
The Government of Khyber Pakhtunkhwa is actively supporting the cause of poverty alleviation by uplifting the marginalized segments of the society through accessibility and affordability of Education. The Government, through its Departments, Directorates, and Corporations are successfully funding the Needy students. The key departments in this cause are:
The Zakat and Usher department, Peshawar, is successfully administering the MORA scholarships for the poor and needy students of the Province by giving handsome scholarship amount on six monthly bases till the completion of full degree program.
The principal function of Frontier Education Foundation is promotion and development of education in private sector in KPK through financial help and other measures. Frontier Education Foundation launched scholarship scheme for the poor and deserving students of KPK. The basic criteria for this scholarship are based on Merit-cum-need basis. The foundation annually gives scholarship amount to the selected students.
Similarly the Directorate of Agriculture Extension is administering the Graduate scholarships for the FATA students enrolled in different Universities of Khyber Pakhtunkhwa.
The role of Political Agent Offices is also vital in securing the interests and needs of the poor students by financial supporting them. The Political Agent is disbursing stipends to the FATA students to enable them to meet their necessary expenses in pursuit of academic goals.
C: Higher Education Commission, Islamabad
HEC continued to support by providing opportunity for talented students who are financially disadvantaged and are incapable of meeting higher education costs at partner institutions /universities in all disciplines through Needs-based scholarships. University of Haripur is privileged in this regard having received 7.58 Million Rupees during fiscal year 2013-14 and 2014-15. Moreover, for fiscal year 2015-16, HEC has already pledged 5 Million Rupees for over 30 Needs-based scholarships for students of University of Haripur.
D: French Government Scholarships
Government of France through its Embassy in Islamabad offered scholarships for the studious but unprivileged students of Pakistani Universities. The MoU in this regard by signed between the then honorable Ambassador of France to Pakistan His Excellency Philippe Thiebaud, Chairman HEC, and Vice Chancellors of selected Universities. The objective of the MoU is to support the students on the bases of financial destitution. These scholarships are offered in the fields of Social Science, Business and Architecture to the students of top Pakistani universities.

Signing of MoU between French Government and HEC for Phase IV Scholarship Awards
E: German Government Scholarships
The German Government through its Embassy in Islamabad signed a MoU with HEC in 2013 according to which the under privileged students of Pakistani Universities are being supported through Needs-based scholarship awards. The excellent gesture in this regard was recently initiated by the German Embassy in which the German scholarship holders from different Universities of Pakistan were invited to visit the German the Embassy with the German officials.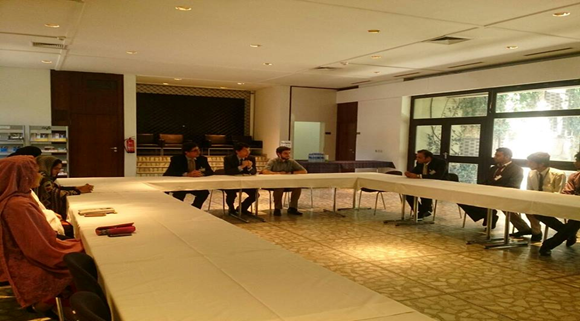 F: Diya Pakistan
A professionally managed charitable organization is working on eradicating poverty through promotion of literacy. Since 1988, Diya has reached out to talented, financially distressed students with more than 235,000 merit scholarships value in excess of Rs 425 million (approximately US$ 4 million), enabling them to continue their education.
G: Scottish Government Scholarships
The Pakistan Scottish Scholarship Scheme is a grant funded by the Scottish Government, specifically in order to create opportunities for young women in Pakistan to be able to pursue higher education at the post-graduate level. The scheme aims to facilitate and provide assistance to young women from disadvantaged backgrounds to pursue a Masters' degree in Pakistani universities. The scholarships are administered by British Council Pakistan.
H: Hashoo Foundation
The Hashoo Foundation has a long standing heritage of philanthropy dating back to the last six generations. Established in 1988, subsequently two further charities were set up. In 1994, Umeed-e-Noor was founded to provide comprehensive education, therapy and boarding services to children with special needs. In 1999, Hope was established for the Oppressed and Powerless (HOAP) to provide social welfare, vocational and soft skills development and education.