Workshop on Trainer of Trainers organized by Department of Management Sciences in collaboration with BIC
Department of Management Sciences in collaboration with Business Incubation Center Organized a workshop on "Trainer of Trainers". This workshop was successfully organized by Mr. Syed Touseed Ahmad, Assistant Professor (Management Sciences) and Ms. Neelam Akhtar, Executive Training Associate (Business Incubation Center).
External Resource person was Mr. Mubashir Ahmad from Afaq and internal resource person was Mr. Touseef Ahmad, Assistant Professor (Management Sciences). Train-the-Trainers workshop is a comprehensive approach to reduce the Training and Development sector in Haripur. The training workshop consists of two phases. The trained trainers are expected to train the participants. The long term expected result of the training workshop is to enhance good communication skills. During this workshop 38 trainers from various departments of the University were trained on good communication skills, Motivation, Leadership Skills and Personality Development.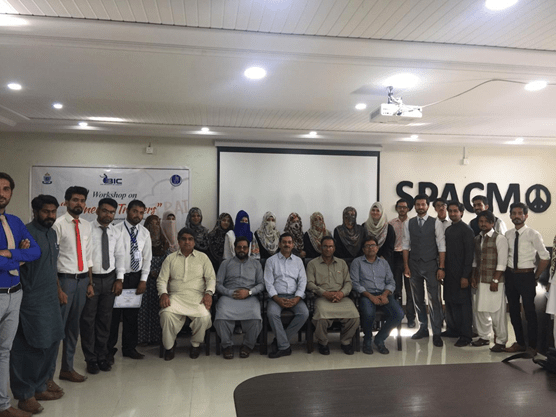 The training consisted of the following five Modules and four Activity sessions:
Conflict Prevention
Principles of Mediation
Motivation
Leaderships Skills
Personality Development
Activity Sessions
Different Mind perception Activity
Guider/leadership Activity
Different Triangle activity
Out of Box Activity
The training workshop was successfully conducted in close co-operation with BIC, The University of Haripur
The training attended by ten facilitators and four Assistant Professors. After the training, 14 potential trainers were able to work effectively with youth, to conduct training on effective skills for youth that responds to the needs of the market, and the community's satisfaction. Hands-on sessions included proper e group tasks. The participants practiced in different activities, Out of Box, Good guider, & Triangles.