Business Incubation Center organized a workshop on Research Proposal Development
Organized by: Business Incubation Center
Location: Video Conferencing Hall
Time: 10:00AM to 02:30PM
Speaker: Dr. Amir Zaib Abbasi (Assistant Professor- Shaheed Zulfiqar Ali Bhutto Institute of Science and Technology, Islamabad)
Participants: Incubates, Faculty and students of M.Phil. & PhD.
Business Incubation Center in collaboration with ASRB and Young Explorer Society organized a workshop on "Research Proposal Development" April 18, 2019 in Video Conference Hall, the University of Haripur.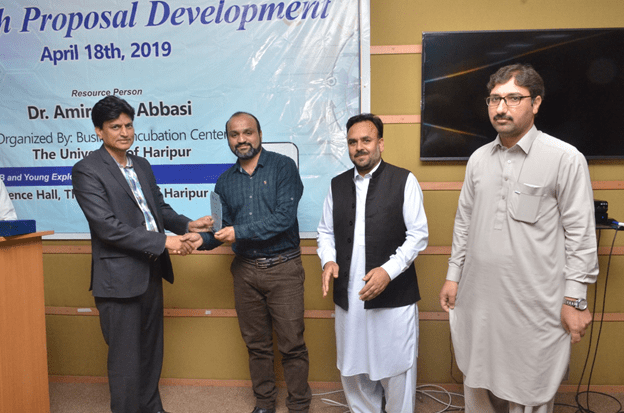 Dr. Amir Zaib explained how to write an effective research proposal? Basic tool, techniques and proposal writing styles. He also share his articles and some journals format.
Prof. Dr. Abid Farid, Dean (Basic and applied sciences) the University of Haripur concluded workshop and acknowledged the efforts of BIC for conducting workshop in the University. After that he present souvenir to the resource person.