Business Incubation Center Organized workshop on Entrepreneurial Mindset for New Venture Creation
Organized by: Business Incubation Center
Location: Iqbal Hall, Management Sciences
Time: 11:00am to 01:00am
Speaker: Dr. Shahid Qureshi, Assistant prof. at IBA Karachi, Program Coordinator at AMAN Center for entrepreneurial development.
Participants: Incubates, Faculty and students of Management Sciences, Information Technology and Economics.
Business Incubation Center organized a workshop on ""Entrepreneurial Mindset for New Venture Creation" on December 05, 2018 in Iqbal Hall, Ibn Sina block, the University of Haripur. Dr. Rehmat Zaman, Manager BIC along with Ms. Neelam Akhtar, Executive Training Associate organized this workshop for Incubates, faculty and students.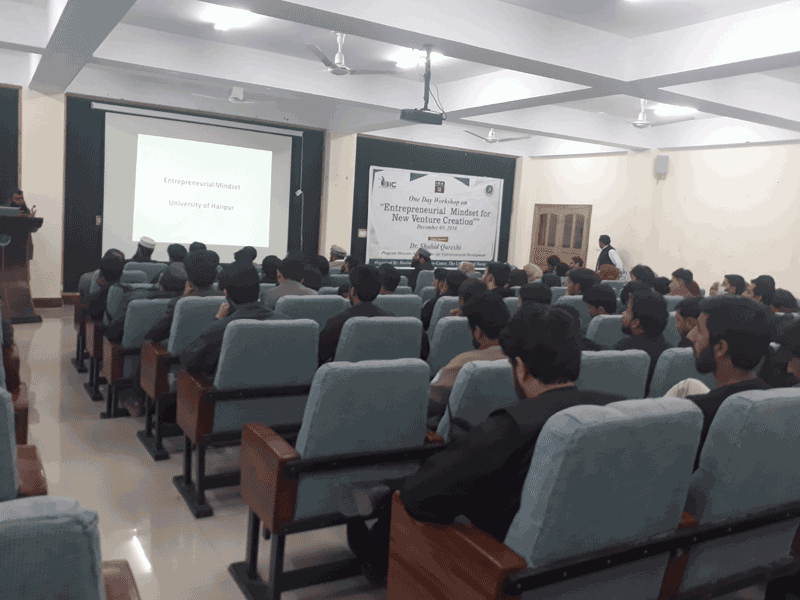 Dr. Shahid Qureshi explained different models of business. According to him, An Entrepreneur is one who owns and manage a business, a person who takes risk of profit and loss. He gave the concept of different lenses i.e. Key points of Faith based entrepreneurship lens:
Entrepreneur is a steward
Purpose is to submit to Allah SWTA will
Role model is the Prophet Muhammad
Source of wisdom Quran, Ahadith and observation and reflection with this lens
Source of ideas is Allah SWTA
Resources are infinite
Risk: Do easy things. As Iman increases the ability to take risks increases. Momin has nothing to loose. He is anxious to meet Allah SWTA.
No competition (Only in good deeds). Emphasis on cooperation
Open to surprises. Wa makaru wa Maka ru Llah.
Focus on action
The end result is Nafs Mutmainnah, Hayat Tayyiba
Dr. Abid Farid, Vice chancellor of the University of Haripur concluded workshop and acknowledged the efforts of BIC for effective workshop in the University. After that he present souvenir to resource person.