LUMS SOE MPhil Education Leadership and Management (ELM)programme- Skype info session and free GRE workshop
Greetings from University of Haripur &LUMS Syed Ahsan Ali and Syed Maratib Ali School of Education (SOE)!
SOE in collaboration with University of Haripur invites you to a Skype information session for its MPhil Education Leadership and Management programme
Monday 14th January at 12:00 pm -1:00 pm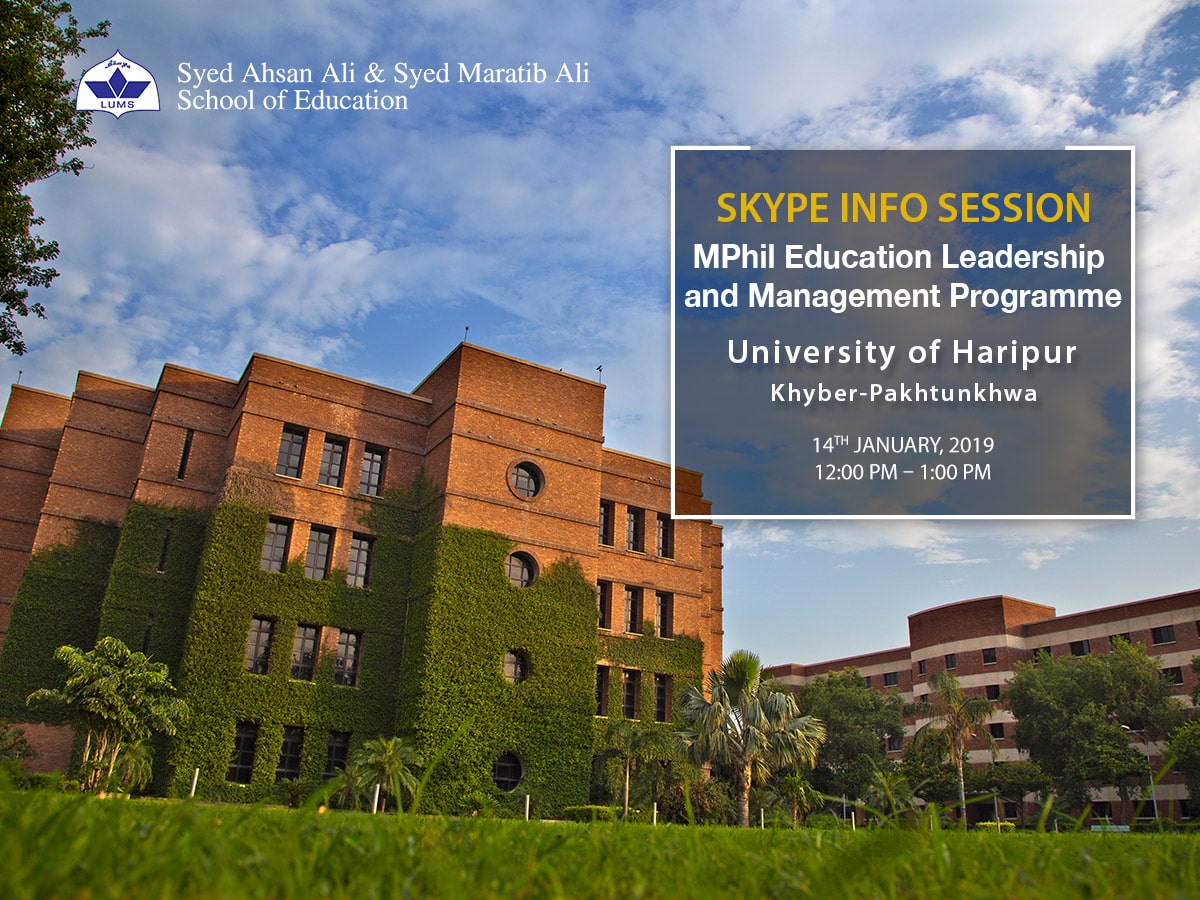 The LUMS MPhil Education and Leadership programme, with its academic rigour and active field engagement, aims to open diverse and well paid career options for our graduates as educators, administrators, policy makers, researchers, entrepreneurs, EdTech experts and practitioners to act as strategic leaders in the education and development sectors in Pakistan. Our world-class faculty, coming from the best universities of the world, will ensure that upon graduation, our students are equipped with the necessary skill set to do so.
To encourage talented students and alumni of institutions like University of Haripur, to apply to the MPhil ELM, we are offering up to 100% scholarships that are both merit and need based.
Admissions for Fall 2019 are open. Apply Now!

The deadlines to remember are as follows:
GRE/GMAT to be taken by: March 12, 2019
Applications to the MPhil ELM: March 14, 2019
Please create an account at https://admissions.lums.edu.pk so that we can keep you updated on the developments at SOE. For guidance on how to create your online admission application, please watch the video: https://www.youtube.com/watch?v=Qb5HZdQu2vk&t=540s
I am forwarding a soft copy of the MPhil flyer, SOE video and SOE FAQs for your information.
SOE Flyer
FAQs Video
SOE Video
For more information, contact rabia.hasan@lums.edu.pk or call +92-42-35608000 Ext. 4234
If you are motivated, innovative, and have leadership potential, the MPhil Education Leadership and Management programme is for you!
Regards
LUMS Syed Ahsan Ali and Syed Maratib Ali School of Education