Time Management Workshop So Much to Do, So Little Time organized by Carrer Devevelopment Center
Date: 25th October 2018
Resource Person: Rafique Ahmed Khuhro
Location: Jinnah Hall (Hall B)
Time: 11:00 AM – 01:00 PM

Target Audience:
CDC invited newly inducted students from all departments of the University of Haripur to register themselves for the workshop; 1st semester registered students attended this workshop.

Purpose of Workshop:
The basic Purpose of Workshop is to create awareness in students about:
What is time management?
Highlight importance of time management
How to avoid frustration created by mismanagement of time
Identify time waster and investor activities
How to make daily, weekly and monthly schedule
Skill set and time management
How time management lead towards happiness and satisfaction
Workshop started with the name of ALLAH by recitation of Surah from AL-Quran. After the recitation the resource person Mr. Rafique Ahmed Khuhro welcomed all the students and introduced himself, CDC (Career Development Center) and informed students about how CDC works.
The workshop was started at 11 o'clock by developing logic from nature, religion, science etc. that everything in this universe has its calculated time than how can we live our life uncalculated?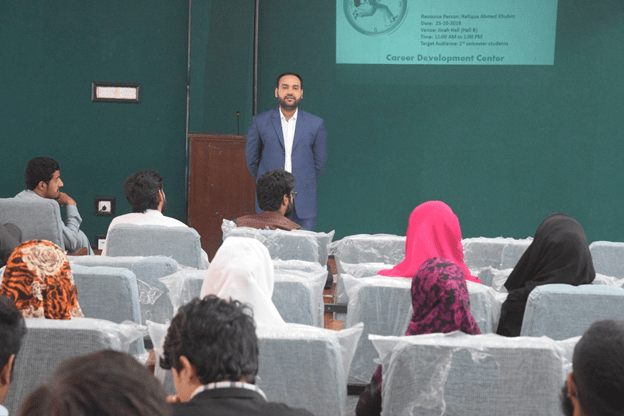 Resource person asked the students routine activities and identified most common activities of students. Question was raised why they perform all these acts to get students oriented about the conscious and unconscious routine jobs.
Groups were created to perform three activities during workshop. First was to identify the time wasters, second was to manifest the time investor activities while third was to calculate the 24 hours' time they spend and know the left-over free time. Students were astonished to know that they have plenty of time to invest if they plan properly.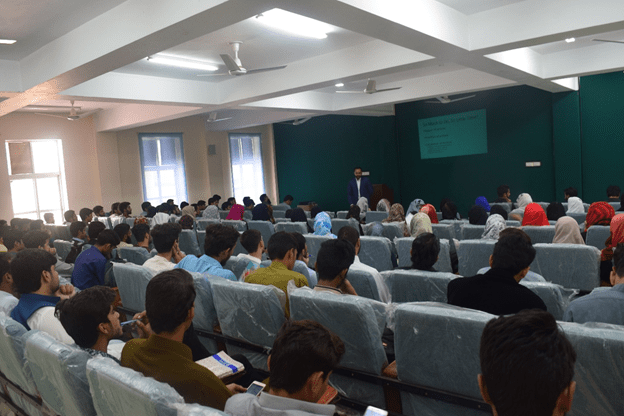 The resource person motivated students to make schedules in their life by prioritizing the activities according to their importance to increase the productivity of their life.
The questions raised by students were answered by resource person thoroughly.