"Bachelor's Degree! What Next?" An Interactive Counselling Session
Organized by: Career Development Centre
Location: Jinnah Hall
Time: 11:00 to 1:00
Resourced Person: Mr Rafique Ahmed Khuhro (Manager CDC)
Dr. Asaf Niwaz Satti (HoD Education Department)
Agenda of Workshop:
Finding and furnishing skill set
Map out a Career Strategy: from start to retirement
How to approach career
Gap after Bachelor Degree
Internships
Jobs
Entrepreneurial opportunities
Pursuing further Education
Activities:
CDC manager Mr Rafique Ahmed Khuhro started session with the importance of career and the different strategies for start of career. He explained why so many people fail in their professional careers as they don't follow the right tactics in approaching their career in right time. Apart from setting goals and objectives, students must explore and furnish the skill set they best possess. Resource person encouraged students to be goal oriented and believe in their dreams.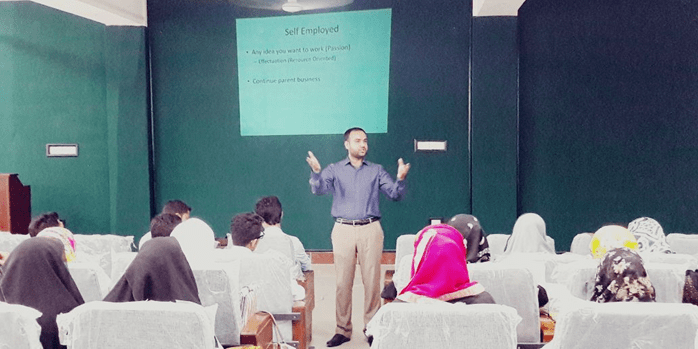 Different options after bachelor degree were discussed such as gap after bachelor degree, internship, job or self employment. Resource person explained students to be with logic to choose any option as wavering ways weakens the career path.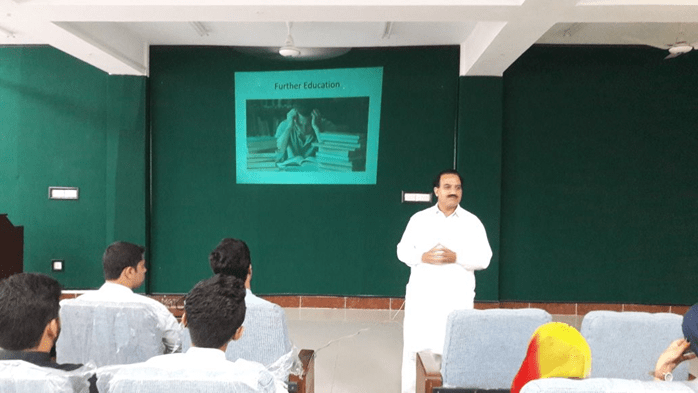 Resource person explained pursuing further education is also viable option in gaining career efficiency. Different job opportunities can easily be grabbed by having information of market needs. Resource person explained to be an entrepreneur is a great option either family business or starting a new option.
Then Mr Rafique Ahmed khuhro invited Dr. Asif Nawaz Satti to mentor students about the need of higher and professional education for career. Dr. Satti discussed importance of consistency in career, further he discussed the important of education in nation building.
At the end students questions and queries were answered and session ended with vote of thanks from Manager CDC.