CDC Organized Workshop on "CV Building and Interview Skills"
Organized by: Career Development Center
Resource Person: Dr. Tariq Iqbal
Location: Management Hall
Time: 11:30 am to 1:00 pm
Highlight of Workshop:
Understand what comprises an effective CV
Write and edit your CV
Sharpen your interview skills
Feel more confident in your preparation for a job application and interview
Understand the needs of your potential employer and communicate your skills and experience to fit those needs
Practice how to present yourself best
Be confident
Activity:
Understanding the need to furnish the underprepared student of final year, CDC organized a workshop on CV Building and Interview Skill. Resource person has diverse experience of industry and academia. He has served in many organizations on key positions where he was involved in recruitment process. He is also PhD in Human Resource Management.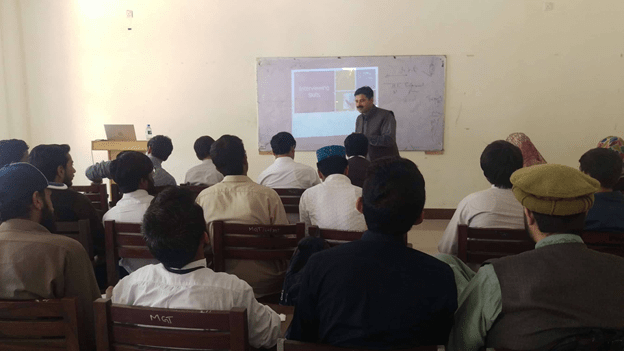 Workshop started at 11:30 AM in management hall. Manager CDC (Rafique Ahmed Khuhro) introduced the resource person and highlighted the importance of workshop. Resource person first guided students about CV, that how to start CV writing? What is important to write in CV? font size, data and application for relevant job etc.
The second part of workshop was Interview Skill. Resource person discussed how to deliver interview in depth? Common mistakes which most of interviewees do while interview, how to dress up? Preparations before interview, communication skills and other aspects interviewer keeps eye on. It was very interactive session students learned many things and raised their queries that were answered thoroughly by resource person.