BIC and Wings Society organized training for Women Entrepreneurs
Organized by: Business incubation Centre and Wings Society.
Location: Henry Dunant Hall.
Time: 11:00 am to 2:00 pm
Participants:
Whole university students, Female entrepreneurs and Female incubates
Activities:
Session started at 11:30 am resource persons was attended by Miss Neelam Akhtar, Executive training Associate. She introduced them one by one. Training started with the recitation of Holy Quran by Mr. Zia-ur-Rehman from Management Sciences.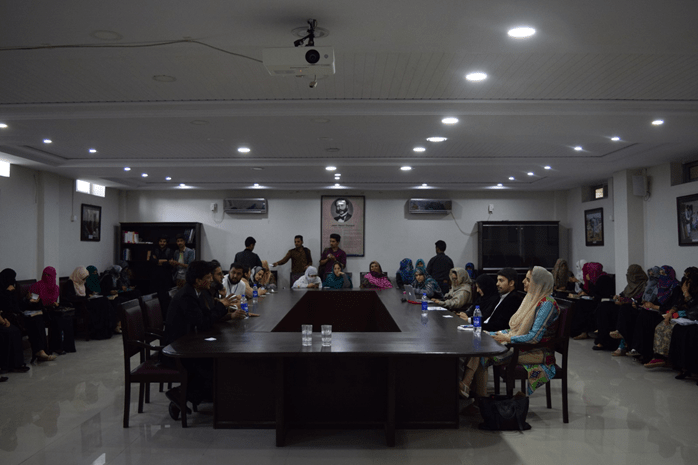 Dr. Muhammad Jahangir, Director ORIC welcomed all participants and encouraged female toward business. After opening session host announced "Brand name competition". Participants took part in this competition. Judges for brand name competition was Dr. Rehmat Zaman, Manager BIC and Dr. Muhammad Jahangir, Director ORIC.

First speaker was Ms. Nabeela Farman, Manager Women Development Program of KPK, SMEDA. She started with great enthusiasm and energy and introduced her entrepreneurial experiences of life time. Her topic was "Motivational session with the female folk about importance of Women Entrepreneurship while letting them know what SMEDA can provide them as services and assistance".
Second speaker was Dr. Najia Zulfiqar, HoD of Phycology, The University of Haripur. She talked on "Need and Importance of Women Entrepreneurs". She encouraged students to ask questions which comes in their mind it was a great session for students and was great learning curve.
Afterwards, Mr. Imran Qadir, Lecturer Management Sciences, The University of Haripur encourages the audience on the topic "How expert entrepreneur think, decide & act". He involved participants in activity and he explained how to become an Entrepreneur.
Then resource person invited the participants of the session to come on the stage and share their experiences. Resource person encourage all the students to start a business with small investment and be the representative of the economy.
At the end, Miss. Neelam Akhtar request to the Vice Chancellor of The University of Haripur, Dr. Abid Farid for closing speech. He appreciated the activity and according to him it was a very productive session for students to gain some interesting and motivating ideas. He presented shields to guest speakers and gave certificates to organizers and participants. He announced the winner of Brand name competition among three shortlisted names. Winner was Mr. Saqib from ORIC with the Brand name "Mangola"