ORIC, organized Workshop on "Biological and Chemical Safety" in collaboration with Deptt of Microbiology
ORIC, organized one day workshop on entitled "Strategies to develop chemical and biological safety culture in laboratories" in collaboration with Musaji Adam and Sons , American Chemical safety and Pakistan Biological Safety Association, Pakistan at department of Microbiology on March 13, 2017. Miss Afshan Saleem, Lecturer, Department of Microbiology was chief organizer and focal person of the workshop. Musaji Adam and Sons were major collaborator of this workshop series in different universities of Khyber Pakhtunkhwa and provides financial as well as technical support to this workshop by providing kits and lab safety equipments for practical session of the workshop.
Opening ceremony was started at 10:00 a.m. with recitation of holy Quran and the welcome note was paid by Dr.Mumtaz Muhamadee, Assistant Professor to the entire participants. Faculty members and students from Department of Microbiology, Agriculture, Forestry and wildlife management and Medical Lab Technology participated in the workshop. Moreover faculty and students from Postgraduate College Haripur and University of Swat also participated in this workshop. Few participants from Qarshi Industries also attended this workshop.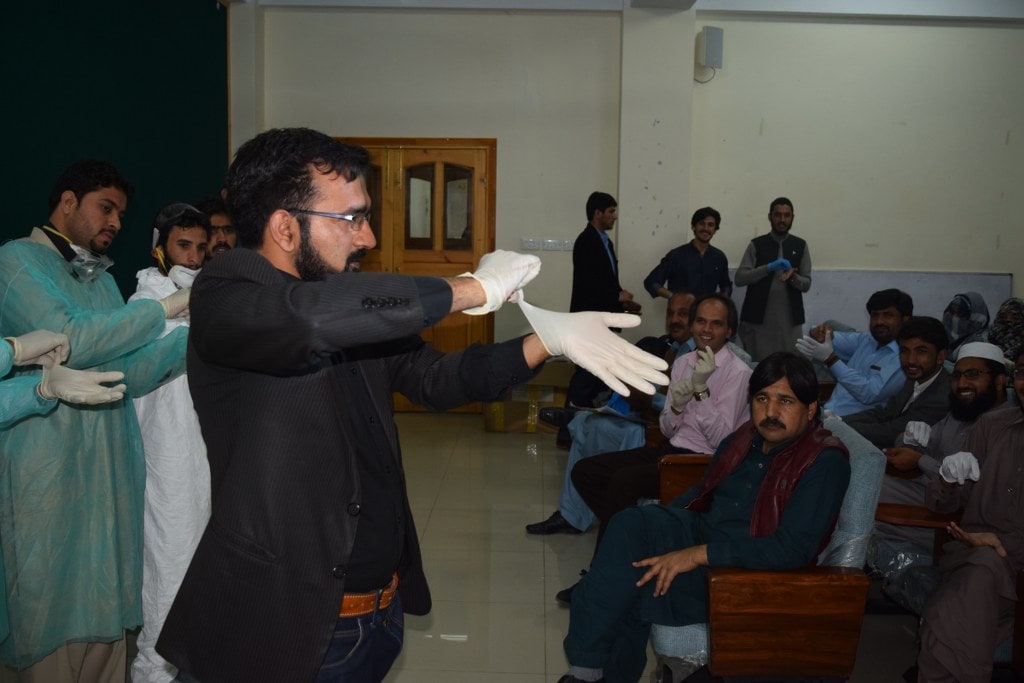 Resource person Dr Sajid Jahangir ,Assistant Professor Federal Urdu University Art, Science and Technology, Karachi and he is certified trainer of American Chemical Society who trained the participants about Global chemist code of ethics. Other resource person was Dr. Muhammad Imran M1alik talked about scientific and technical writing while Dr. Javed Muhammad Program Coordinator, Pakistan Biological Safety Association delivered about Biosafety and Biosecurity. Dr. Muhammad Ismail Vohra, Director Sales, Musaji Adam and sons conducted PPE and Fire drill.
Dr. Abid Farid, Vice Chancellor University of Haripur was the chief guest in the closing ceremony. Dr. Sobia Nisa concluded the ceremony with votes of thanks to participants. In the closing ceremony, shields to the guests were presented and certificates were distributed among all the students who participated.