Business Plan Competition organized by Business Incubation Center, UOH
ROUND 1: Business Pitch Competition
What is a Pitch? Summary of the idea or concept, i.e. the product or service etc.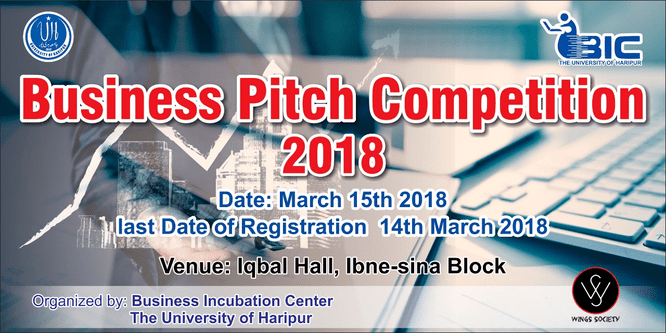 Objective
The objective of the pitch is to present the idea or concept by explaining a product, service, or value proposition in short duration of time (2 minutes) before judges.
The Business pitch must cover the following areas:
I. Product or Service – Briefly describe the product or service.
Ii. Value Proposition – How will the product or service add value for customers?
iii. Target Market – Who will buy the product or service?
Iv. Market Size – How big is the target market?
v. Differentiation – How is the product or service different from competition? What is the competitive advantage? (Patent, Unique services provided, etc.)
Vi. Sales Model – How will the product or service generate sales? (Sale discounts, subscription, advertisement, etc.)
Vii. Sales Estimate – How much you expect to sell in the first year of business?
Time for Presentation:
There are two (2) minutes allocated to each team for pitching an idea or concept. There are three (3) minutes allocated for a Q & A session with the judges.
The top 05 teams will be selected for second round (Business Plan Competition) that will take place later in the term.
The Best and feasible Ideas will be inducted for Incubation.
Last date of Registration: March 14, 2018

For Further Details:
Contact:
Malik Waqas Ali Khan
Management Associate, BIC
0995-615053
03009089318 (What's app only)
waqas.ali@uoh.edu.pk .
Or visit http://www.uoh.edu.pk/bic