Seminar on Pakistan Air Force Induction Organized by Career Development Center, UOH
Organized by: UoH, Career Development Centre
Resourced Person: Waqas Ahmad (Squadron Leader, Officer Commanding, PAF I&SC Abbotabad)
Location: Iqbal Hall
Time: 11:30 to 1:30
Seminar highlights:
PAF recruitment and Selection Process
Queries about induction system
ISSB test break down
Breaking barriers between Arm forces and youth
Clearing Misconceptions about forces
Historical background of Forces
Geographical importance of Pakistan
Seminar started with the recitation of Holy Quran. After recitation Mr. Rafique Ahmed Khuhro, Manager Career Development Center welcomed the guests and introduced CDC, UoH and explained the importance of the seminar.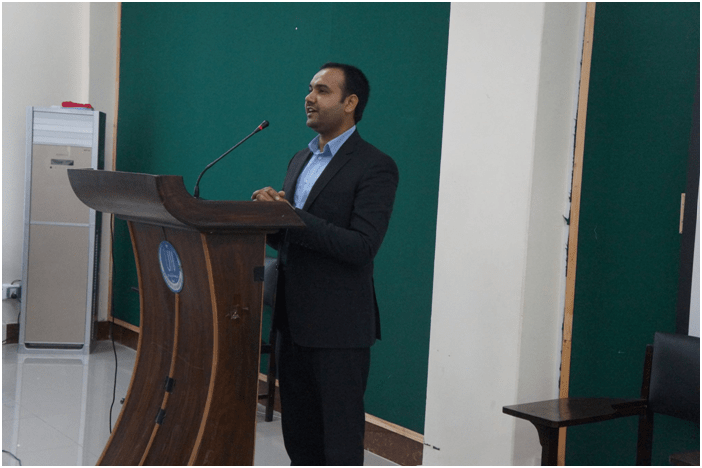 Mr. Waqas Ahmad (Squadron Leader, Officer Commanding, PAF I&SC Abbotabad) introduced himself and the relation to Haripur city. Session was interactive and participants were welcomed to raise the questions and queries related to PAF induction and current situation of Pakistan and role of armed forces.
Students were encouraged to ask anything related to current situation, foreign affairs, arm forces, geographical, geopolitical situation, induction process, ISSB and IQ. This interactive session started from 11:40 AM and ended at 1:15 PM.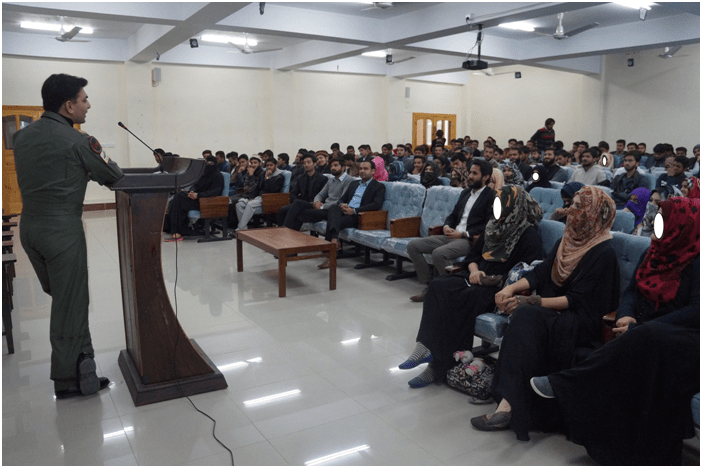 Varity of questions and queries were raised by students related to induction process. Students were given the tips for attempting test and appearing in interview. Students in seminar were from all departments of university and they were curious to know the vacancies of their relevant department. They were informed about different jobs i.e. psychologist, logistics, administration, accounts and information technology.
Despite from induction student were also mentored about the current situation of Pakistan and role of forces and citizen for our holy mother land Pakistan.
The gap between Arm Forces and general public was reduced. Resource person hoped to have further these kind of session for student counselling.
At the end Manager Career Development Center delivered vote of thanks and session was ended with a group photo.