The University of Haripur Hosts First-Ever Multilingual Mushaira, a Poetic Event.
Press Release (02-11-2023)
The University of Haripur Organized the first multilingual Mushaira, a poetic event!
Under the leadership of University of Haripur Vice-Chancellor, Professor Dr. Shafiq ur Rahman, Central Library Haripur, under the supervision of Muhammad Kashif Khan and with the support of renowned Pashto poet and columnist Javed Iqbal Afgar, multilingualism in Iqbal Hall. This event took place at Iqbal Hall, where experienced poets from the Hazara Division presented their poetry in Urdu, Pashto, and Hindko languages.
In legendary poets from Haripur, Professor Waheed Qureshi, Professor Zaka Rasheed, Mr. Irshad Khan utman Zai, Mr. Nazir Kasilvi, Mr. Javed Akhtar Aman, Honorable Mati ur Rehman Athar Hashmi, Muhammad Zaheer Hasrat Kazmi, Honorable Mr. Manzoor , while From Abbottabad, Honorable Ahmed Hussain Mujahid, Honorable Wahid Siraj Mir, Honorable Abdul Waheed Bismal, Prof. Muhammad Farid, Prof. Rehman Sahil, Dr. Roshan Kaleem Farooqui, Prof. Shaukat Mahmood Shaukat and from Jund Attock, Prof. Abdul Hameed Majroo, Prof. Muhammad Ghafran Kamil, and from Wah, Honorable Javed Iqbal Afgar participated and created the magic of their poems and expressed pain and anguish through poetry, expressed grief and happiness, commented on the current situation . Large number of students and faculty participated in the recital. They encouraged the poets with their applause and appreciative titles and appeared to be enjoying the performance.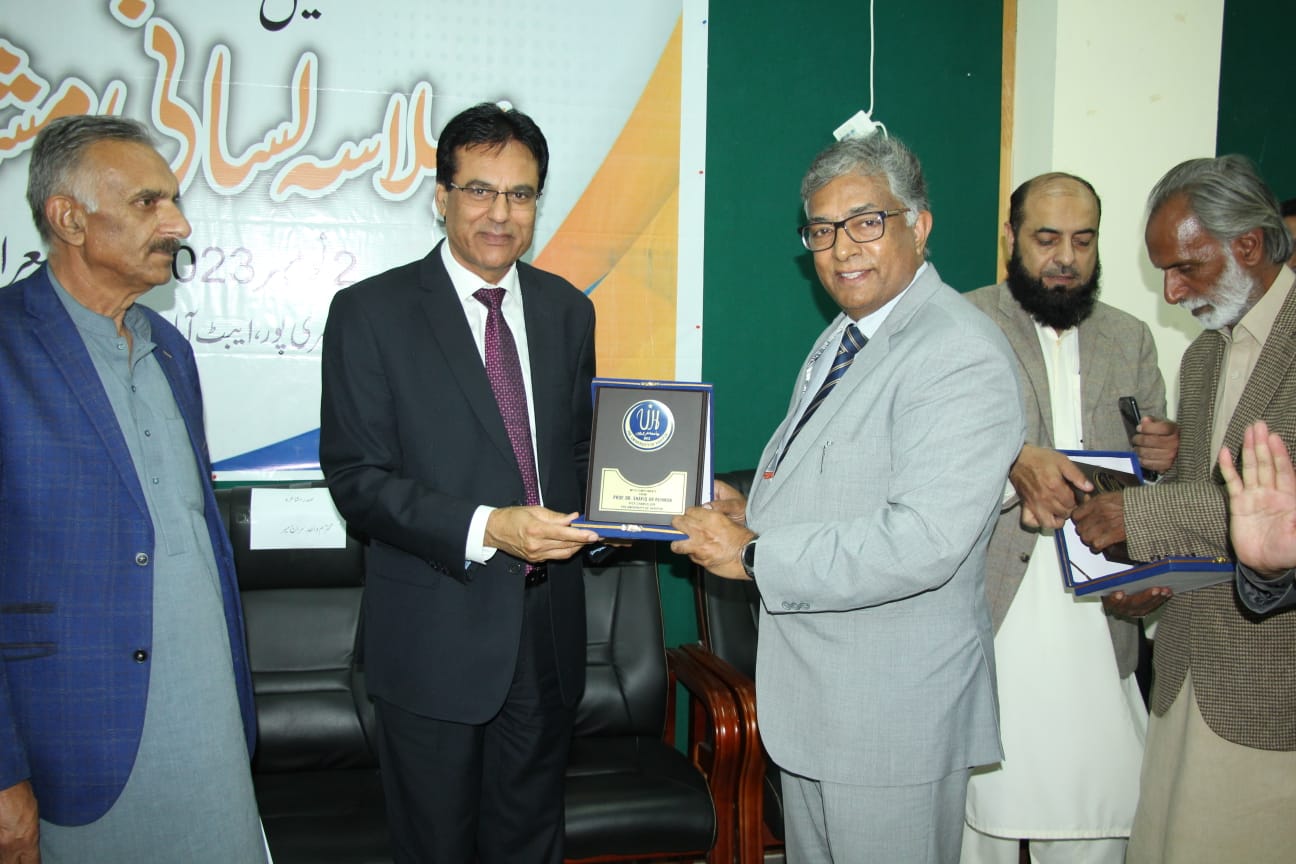 Vice-Chancellor, Prof. Dr. Shafiq ur Rehman welcomed the guests enthusiastically, while talking about the exhibition, he said that I will be very happy if my children develop interest and taste in literature, this successful language exhibition is a huge achievement. ​​Poetry, in its myriad forms and colors, is a universal language that transcends borders, cultures and time itself. It has a unique ability to capture emotions, ideas and stories in ways that prose often cannot. Whether it's a haiku, sonnet, or free verse, every poetic form is a gateway to the human spirit, inviting us to explore the depths of our feelings and the world around us.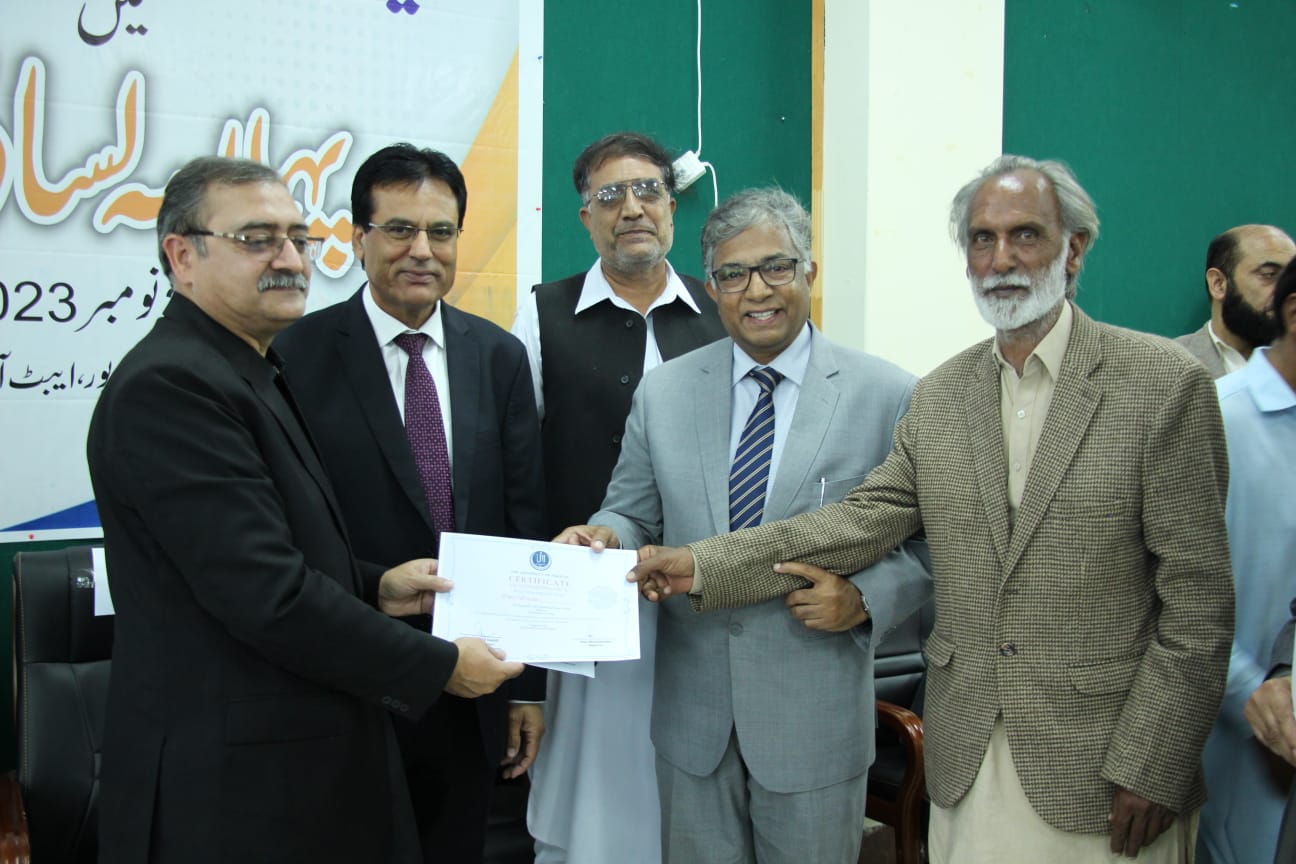 Today we gather to pay tribute to poets who weave words into magnificent tapestries of emotion and imagination. We celebrate the metaphors, similes and rhythms that dance on the pages and in our hearts. Through poetry, we can convey the unspeakable, shed light on the darkest corners of existence, and inspire change. have gathered here to participate in the celebration.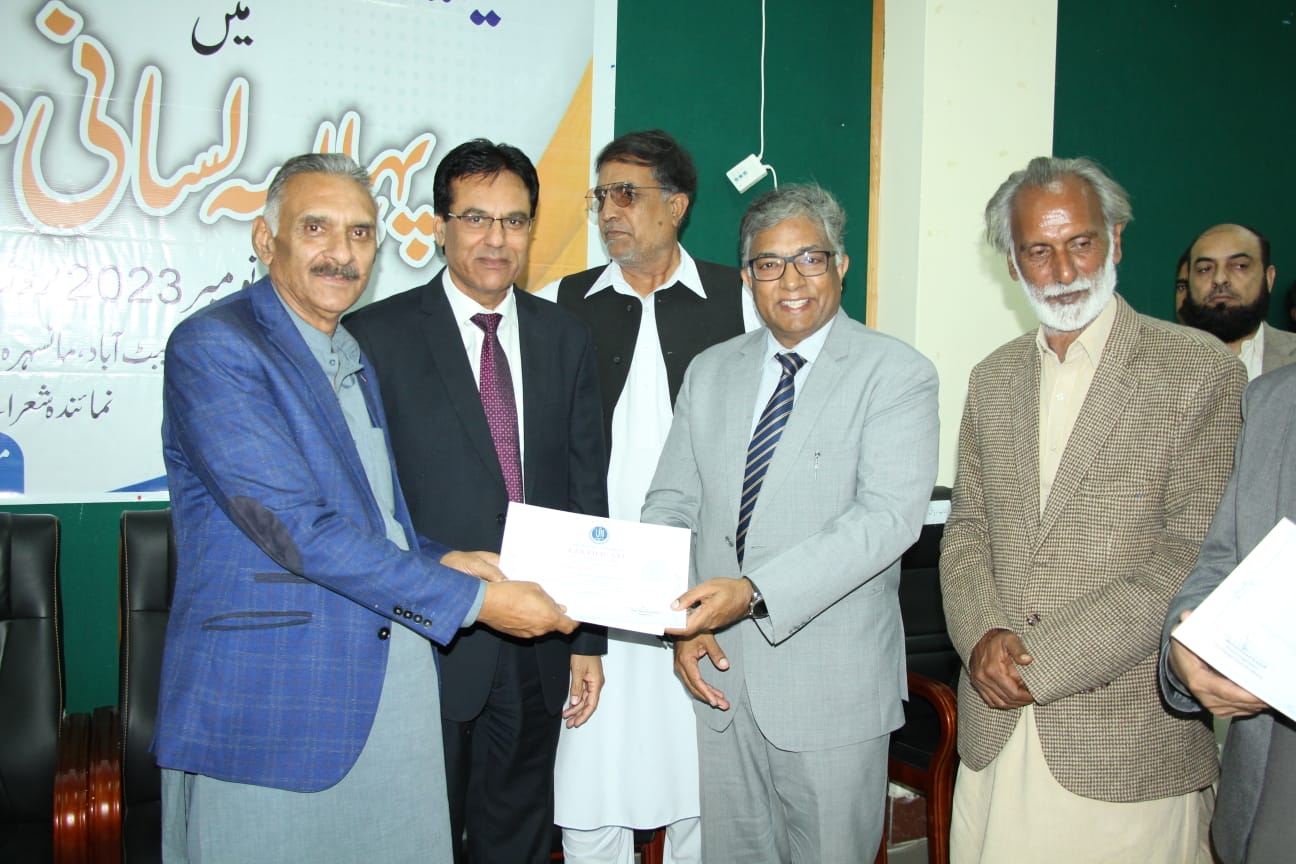 The chief guest, Prof. Waheed Qureshi also congratulated Prof. Dr. Shafiq ur Rahman on behalf of all the poets and writers on the first multilingual mushaira and the announcement of the establishment of "Qateel Shafai Society". While talking about literature he said that the poets are tilmiez-ul-rahman and disciples of God. Today we are starting a poetic journey, so let's open our hearts and minds to the magic of words, the power of changing poetry and the wisdom that poets give us. He narrated a beautiful poem "Jawani Ki Kahani" to the applause of all the participants.
Honorable Mr. Wahid Siraj Mir also congratulated the Vice-Chancellor, Prof. Dr. Shafiq ur Rahman for the successful mushaira and for making the best arrangements.
At the end of the mushaira, all the distinguished poets were awarded cash prizes as well as certificates and shields.
University of Haripur Khyber Pakhtunkhwa!
The guarantor of your bright future, the pioneer of culture and civilization!