Workshop on Emerging Fungal Infections: Advancements and Awareness, Organized by Pakistan Society of Microbiology and the University of Haripur
One day workshop on Emerging Fungal Infection: Therapeutic Aspects and Challenges" was held on 3rd October 2023, at Alrazi Hall, in the Department of Microbiology, the University of Haripur. It was jointly organized by Pakistan Society of Microbiology and the University of Haripur, as a part of 14th International Biennial conferences, organized by PSM in collaboration with Salim Habib University, Karachi. The workshop was organized to shed light on the various aspects of fungal infections, their impact on public health, and advancements in diagnosis and treatment.
Dr. Sobia Nisa, Dr. Javed Muhammad and all faculty of Department of Microbiology jointly organized the event. Dr. Syed Muhammad Ali, Chairman, Department of Microbiology, welcomed, resource persons, all participants and guests from different universities and institutes especially Dr. Nan Tara from Women University Swabi, Dr Naheed Malik from the University of Wah, and Saima Malik from the agriculture department.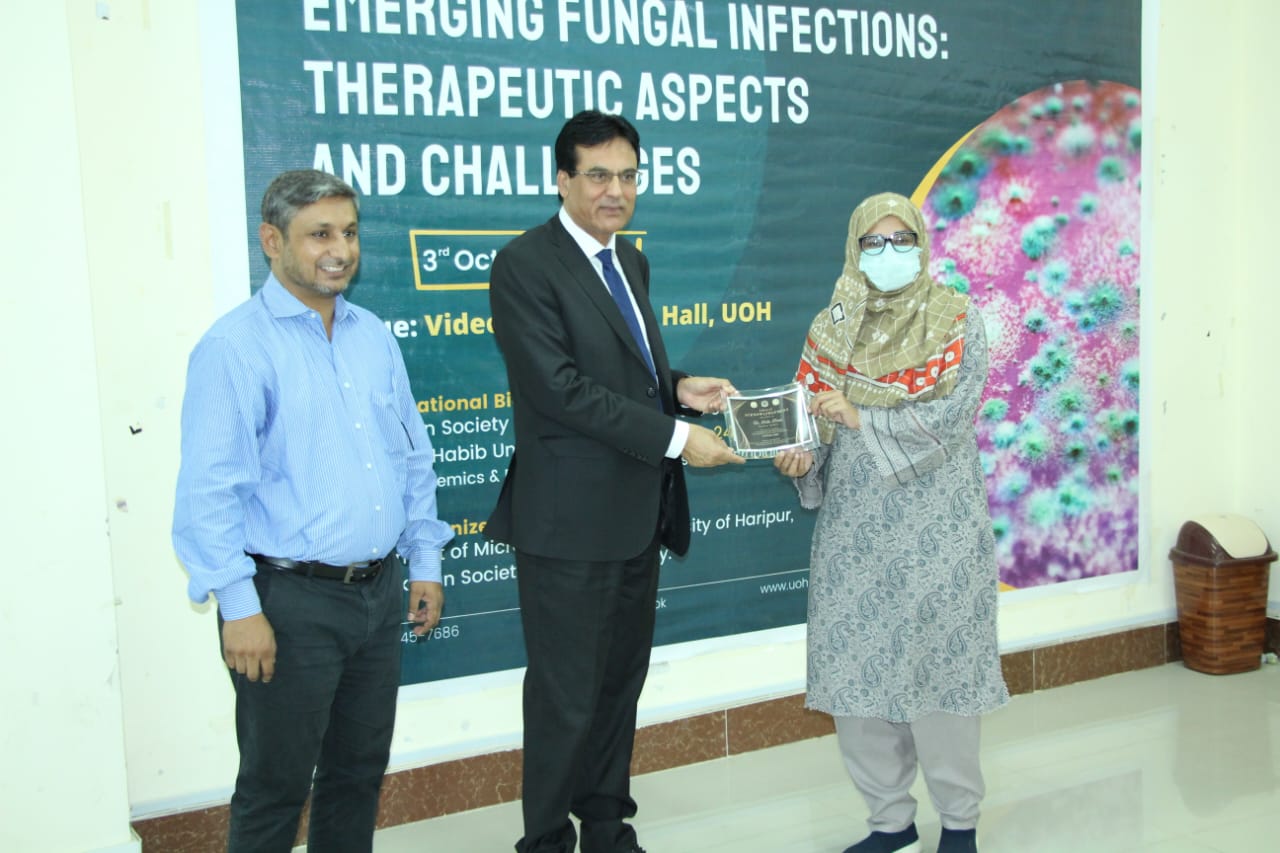 The primary objective of this seminar/workshop was to increase awareness about fungal infections, which are often underestimated but can have serious consequences for human health. Fungal infections have been on the rise globally, and this seminar aimed to address this growing concern.
Experts from different organization were invited as keynote speakers, Dr Saba Sana (UVAS, Lahore), Dr Ronaq Zaman (Kabir Medical College, Peshawar) and Dr Afreenish Amir (NIH, Islamabad).
Vice Chancellor Professor Dr. Shaiq ur Rehman, briefed the participants about the importance of workshop and distributed certificates and shields among organizers and resource persons.