Chevening Scholarships The UK Government Global Scholarship Program
What are Chevening Scholarships?
The UK Government's global scholarship programme, funded by the Foreign, Commonwealth, and Development Office (FCDO) and partner organizations.
Available in over 160 countries and territories, these scholarships support one-year master's degrees in any subject and at any UK university.
Who are Chevening scholarships aimed at?
Chevening Scholars are passionate about creating positive change in their home countries. They are good at building relationships, are resilient and determined, and have a short, mid and long-term plan for achieving their goals.Chevening Scholars tend to rise to prominent positions in their countries, and in their chosen fields.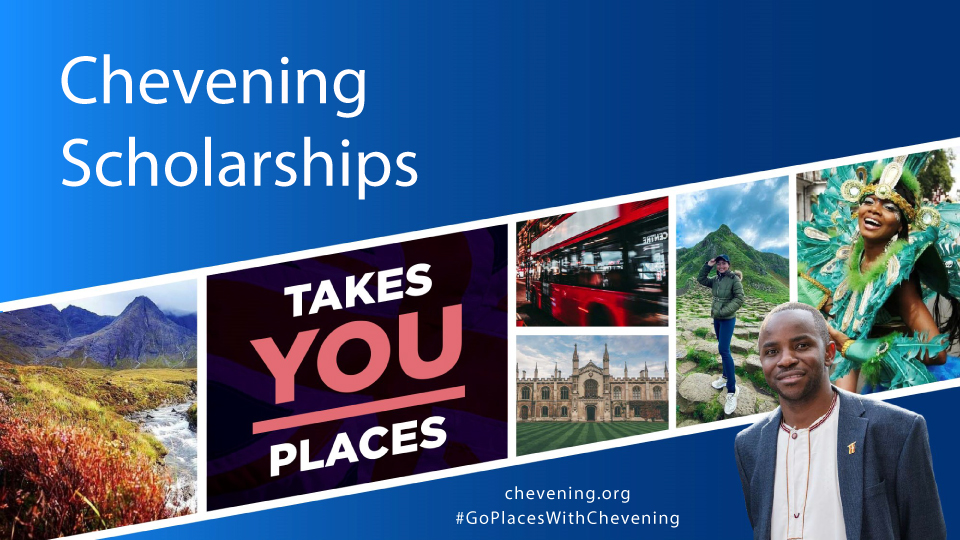 Eligibility criteria
In order to submit an eligible application, you must:
Be a citizen of Pakistan.

Already have an undergraduate degree

Have at least two years' work experience

Not have previously received UK government funding to study in the UK
Before being awarded a scholarship, selected candidates must also hold an unconditional offer from at least one of their three course choices.
A Chevening scholarship covers:
Fully covered* tuition fees

A living allowance at a set rate (for one individual)

An economy return flight to the UK.

Additional grants to cover essential expenditure.
* There is a global Chevening fee cap of around £22,000 for MBAs
Benefits of a Chevening scholarship include:
Chevening Scholars are also invited to a vast programme of exclusive networking events, talks, trips across the UK, and volunteering opportunities.
On graduating, scholars join around 55,000 other Chevening Alumni who together form an influential and highly regarded global network.
Other exclusive opportunities in recent years have included:
Internships at the BBC World Service

Volunteering opportunities

Chevening Relay competition
The Chevening Alumni community
Chevening has been running since 1983 and Chevening Alumni form the backbone of the programme.
Numbering around 55,000 worldwide, our alumni constitute a highly regarded global network of skilled professionals working in a range of fields, including helping to tackle climate change, championing gender equality, working in journalism, business, law, and many other fields.
Online application form
Leadership and influencing
Explain leadership and influencing qualities using clear examples.
Networking
Think about how you will build a global professional network and establish links in the UK.
Study in the UK
Explain how your experience is relevant to your chosen courses those choices will allow you to achieve your career goals.
Career plan
Explain what your short/long term career goals are. How you will achieve them and how will they benefit your home country?
Chevening Pakistan Partnerships
1- Chevening Swindown Town Football Club partnership
2- Chevening Essex Partnership
What is Chevening Swindon Town Football Club Partnership?
This scholarship supports a one-year Master's degree in Football Coaching/Science either at Solent University or University Campus of Football Business, Wembley Stadium UK. This prestigious programme would provide an opportunity to visit the Swindon Town Football Club during your time out of term and have the chance to closely work with them - learning by practical application as how to effectively coach and manage professional footballers. Both universities are within commuting distance from Swindon Stadium.
How to apply?
1-Visit Chevening website www.chevening.org and apply online for Football Coaching/Science either at Solent University or University Campus of Football Business (UCFB), Wembley Stadium UK.
2-Select three course choices to fulfil Chevening Scholarship requirements.
3-To apply for Chevening Swindon Town Football club scholarship, you must select first two courses at Solent University or UCFB and third similar course at any other UK University.
4- Please note that the course titles do not have to match exactly, but all three courses should be similar in content. You should select courses that reflect your current or future career goals.
5- Top ranking applicant will be selected for Chevening Swindon Town Football Club Scholarship.
6- If you are not selected for Chevening Swindon partnership award, you still have a chance to win Chevening scholarship for one year master degree at your third choice UK University.
Check eligible courses on Chevening website course finder page https://www.chevening.org/scholarships/find-a-course/
What is Chevening Essex Partnership?
Two scholarships will be offered to applicants from Pakistan.
Courses available for Pakistani Chevening applicants through the University of Essex Chevening Partnership Scheme will be limited to the following for 2024/2025 (subject to change with future academic years):
Heritage / Museum studies
MA: Heritage and Museum Studies

MA: Curating
Climate Change / Sustainability LLM: Law, Environment and Sustainability
MA / MSc: Environment, Society and Culture

MA / MSc: Environmental Futures and Climate Change

MSc: Marine Science and Sustainable Development
Visit Chevening website www.chevening.org and apply online for Heritage / Museum studies and Climate Change / Sustainability LLM at Essex University.
Applications for Chevening Scholarships will open in September until November 2023.
Sign up for alerts and to find all information about eligibility, timelines, and the online application system on our website: www.chevening.org
Chevening Fellowships
1-South Asia Journalism Programme
2-OCIS Fellowship
Start preparing your application.

Follow our social media channels.

Keep yourself updated.

Application window will open in September to receive applications for academic year 2024-25.
Chevening social media
Website: chevening.org
Facebook, Twitter, Instagram: @cheveningfcdo
LinkedIn: 'Chevening Awards'