Six Faculty Members Of The University of Haripur Have Risen To Prominence This Year Among The Worlds Top 2%
Press Release 06-10-2023
The Faculty of University of Haripur has gained international recognition.
The University of Haripur, while strengthening its traditions, has once again made its mark as one of the best universities in the world and has made the name of its country Pakistan bright.
Six renowned faculty of the University of Haripur have established their identity in the top two percent globally for their quality education, quality, well-known personalities. Highlighted by Elsevier, a renowned scholar in the world of scholarly publishing and research analyses. Rigorous evaluation criteria to determine include bibliographic results such as titles, h-indexes, and authorship positions, which reflect the impact of their scholarly work.
The University of Haripur's recent success is a testament to its excellence in teaching and research.Being ranked among the top two percent of scientists in the world by Stanford University is a wonderful recognition of the institution's academic strengths and the distinguished work of its faculty. The achievement represents the University of Haripur's commitment to fostering a culture of global excellence in research and education.
This success is the reason for the success of the entire country and is an important step in the educational journey of the entire country. The teachers of the University of Haripur have played a great role not only in their respective fields but also in promoting human understanding. This The success proves that the faculty of University of Haripur has consistently demonstrated excellence in research by publishing colonial studies, sharing academic journals, and working on Portuguese educational materials not only nationally but also nationally. It has also made a huge impact on the global level.
University of Haripur faculty members will play an important role not only in their research but also in guiding future generations. Some of the University of Haripur faculty members are actively participating in their local communities in addition to teaching through their research and expertise and has been used to find solutions to public social problems that have brought about a distinct change in the lives of students.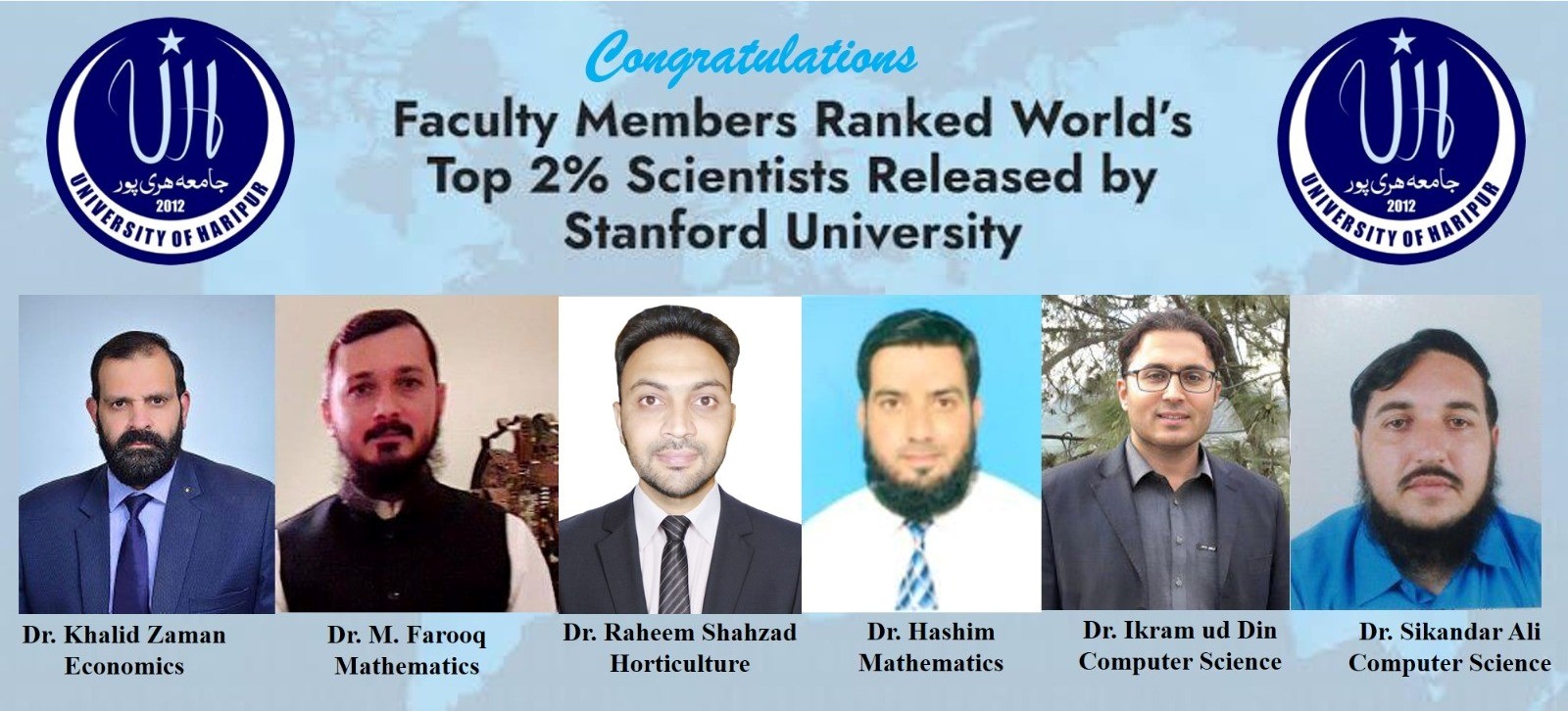 Distinguished researchers recognized this year include Dr. Khalid Zaman, Department of Economics, Dr. Rahim Shehzad, Department of Horticulture, Dr. M. Farooq, Department of Mathematics, Dr. Hashim, Department of Mathematics, Dr. Ikramuddin, Department of Computer Science, and Dr. Sikandar Ali, Department of Computer Science, University of Haripur. The family congratulates all these esteemed members with heartfelt best wishes – their relentless pursuit of excellence and unwavering commitment to their respective fields have not only earned them international recognition, but also their dedication to pushing the boundaries of knowledge. It has not only brought recognition but also brought the University of Haripur to new heights at the global level.
Vice-Chancellor Mr. Dr. Shafiqur Rahman Sahib expressed his happiness in this regard and said that I am extremely proud to share the wonderful achievements of our esteemed faculty members. His recognition among the top 2% of research luminaries in the world is a testament to his dedication, expertise and commitment to advancing knowledge.
This achievement reflects not only the exceptional quality of research at our institution but also the collective efforts of our academic community. The University has always strived for excellence in teaching and research, and the recognition from Elsevier reaffirms our commitment to these ideals.
He said that I heartily congratulate all these members for their distinguished service in their respective fields. As this marks the beginning of many more accomplishments for our university and its dedicated faculty, I encourage all of our researchers to continue to pursue excellence and push the boundaries of knowledge as well, as we continue to advance our academic will continue to inspire hope and build community through efforts.
May our stars continue to shine brightly in the academic world. We are truly proud of their achievements.
The University of Haripur Khyber Pakhtunkhwa!
The guarantor of your bright future, the pioneer of character, research and culture!