The first convocation of the University of Haripur held on 5th March 2022
As per University representative, the convocation was participated by the graduate students, their parents, Chief Guest, Provincial Minister for Higher Education Kamran Bangash, guest of honour Federal Minister for Economic Affairs, Omar Ayub Khan, Vice Chancellor Abbottabad University Prof. Tahir Khan, Pro Vice Chancellor Prof. Ayub Khan, Deans Prof. Abid Farid, Dean Prof. Amara Gul, Director Academic Prof. Shafiq ur Rehman, Senior Faculty and Administration.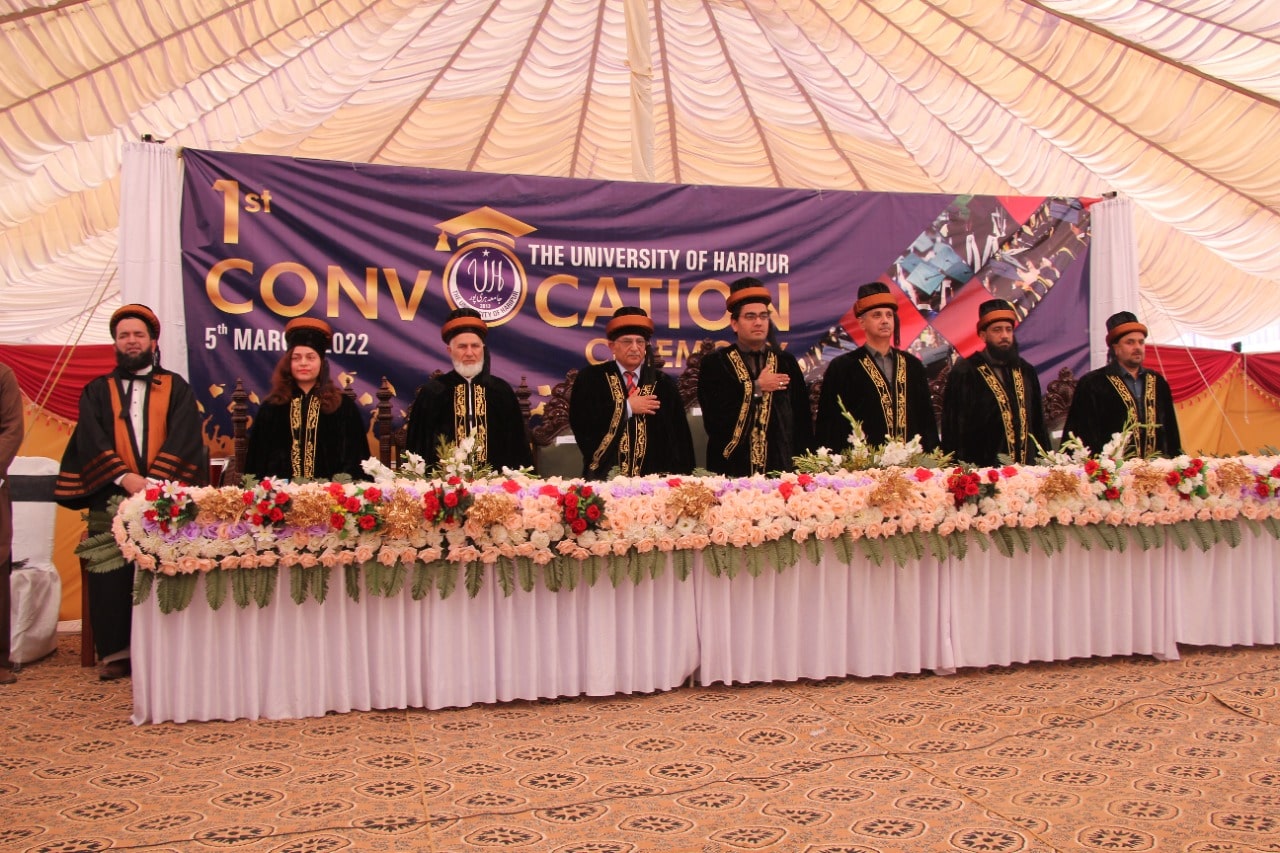 According to the details, the first convocation was held on March 5, 2022 at the University Haripur in which graduates of PhD, MPhil and Bachelor received their degrees and Gold medals were also given to position holder students.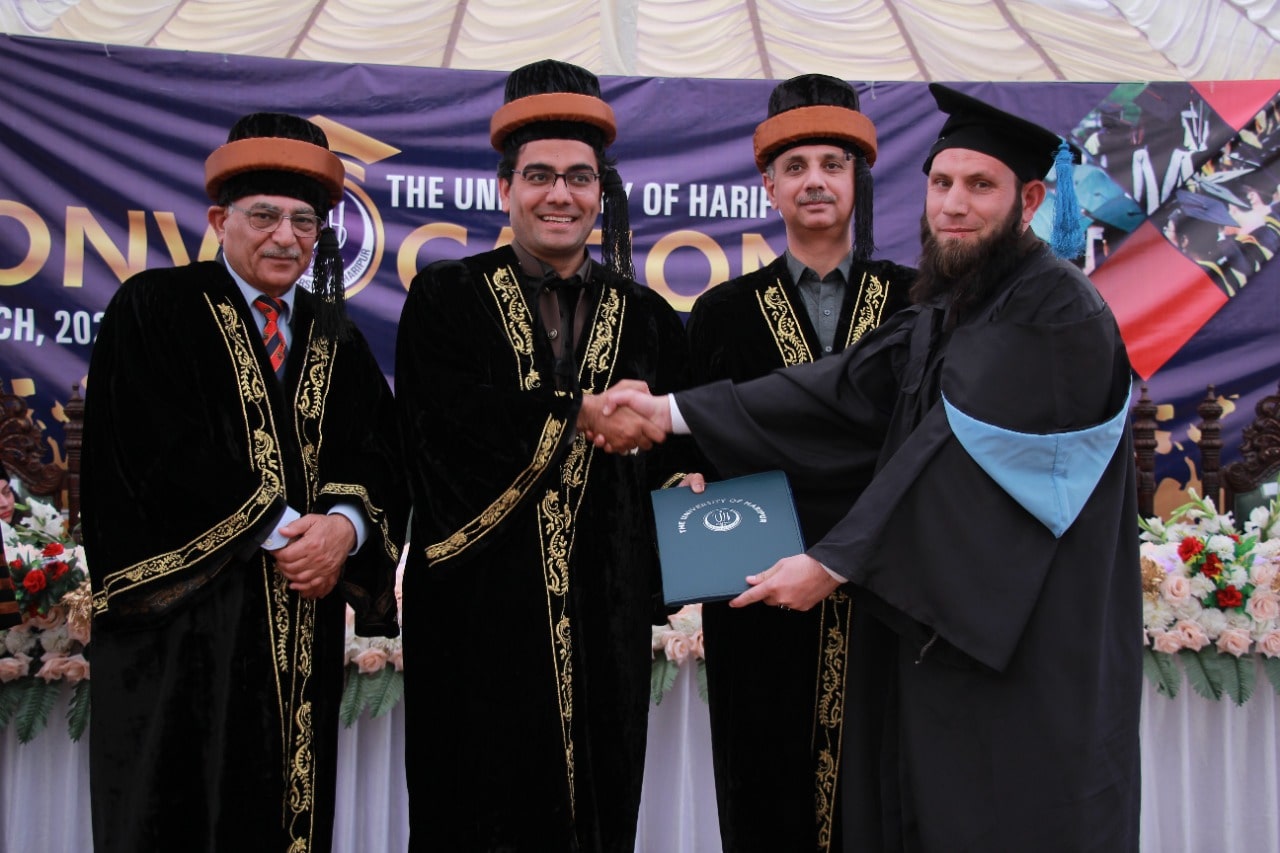 According to University Spokesperson Additional Registrar Riaz Mohammad, the University of Haripur was established in the year 2012 and since then 15,000 students have graduated so far while at present 6,500 students are studying in the university campus and 7,000 in it's affiliated colleges.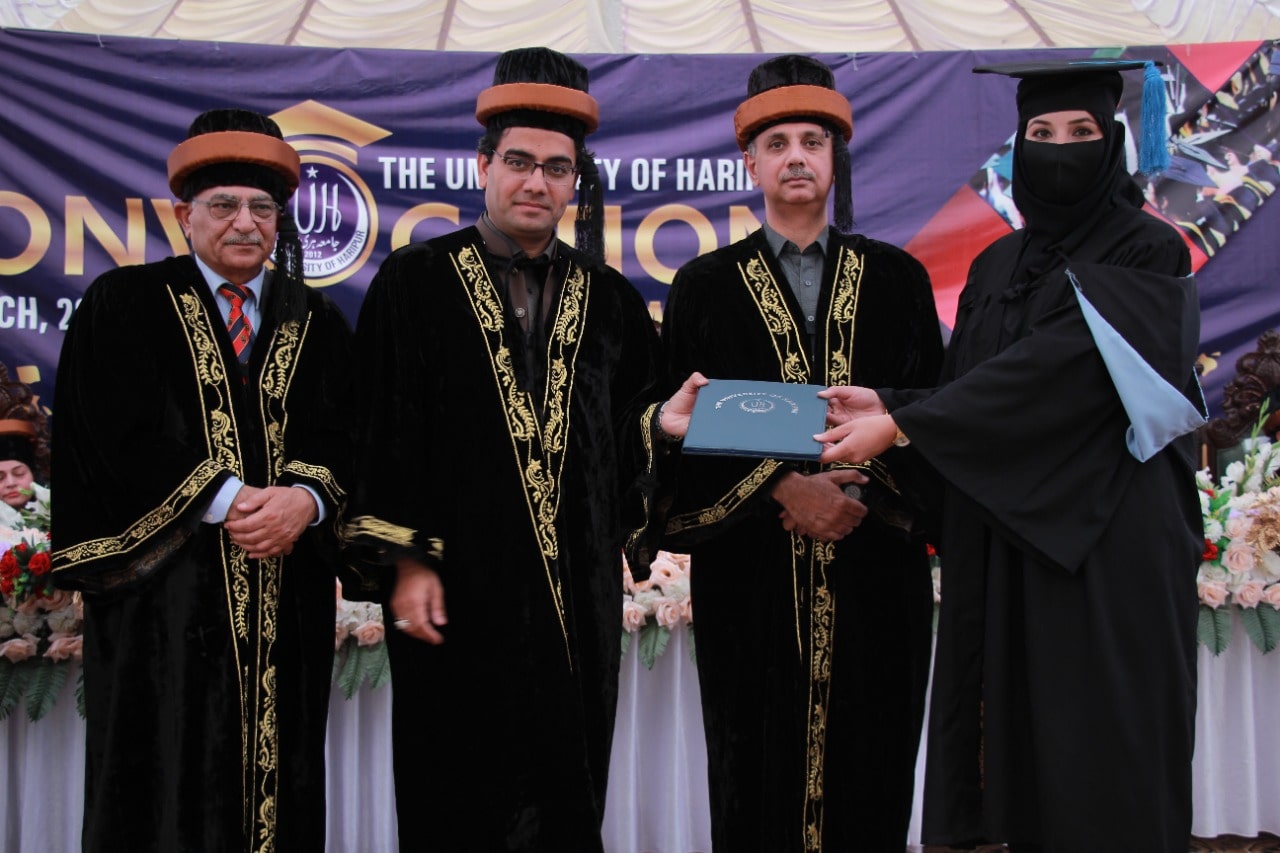 Addressing the convocation, Vice Chancellor Prof. Anwar Gilani first of all thanked all the distinguished guests, students and their parents and relatives for attending the convocation, on behalf of the University. He expressed special thanks to Federal Minister, Economic Affairs, Omar Ayub Khan for his personal efforts in getting the university a developmental grant of over Rs 1.5 billion from the federal government in the year 2019. He also thanked Provincial Minister for Higher Education and Pro Chancellor of the University, Mr. Kamran Khan Bangash as well as the provincial government for patronizing the university on every occasion. He briefly presented the performance of the University from its inception till date and said that in a short span of time, Haripur University has made remarkable progress in many respects, especially in the last three years, in almost all fields. He said, in last three years, the number of students increased more than doubled, from 3,200 to almost 6,500, the number of PhD students has increased from 19 to three hundred and forty-four. Departments have increased from 19 to 31 while the educational programs increased from 52 to 90. Similarly, the number of professors has increased from 2 to 10 and that of associate professors from 1 to 30. While the proportion of teachers with PhD degree in universities across Pakistan is 35% while in Haripur University this ratio is about 70%. The quality can be gauged from the fact that Haripur University is one of the six universities in the province which has been awarded the Quality Assurance Award for the year 2021 by the provincial government and three of it's affiliated colleges also won this prize. It has been the only university in the country who got HEC NOC to launch 10 new PhD and 9 M.Phil programs in one year. He also added that keeping in view the economic challenges of modern times, the university has launched market driven programs and particularly focused on IT disciplines and Public Health and MLT programs in the wake of pandemics as flagship programs. Finally, he asked both the provincial and federal governments to provide more land for the university. On successful conduct of convocation, he thanked all the faculty and administration of the university, especially District Police Officer, Mr. Kashif Abbasi, Director Academics, Prof. Shafiq, Registrar Dr. Shah Masood, Controller Dr. Zia-ur-Rehman, Deputy Controller Asghar Ali and his team, Director Admin Major Iqbal and his team.
Addressing the convocation, Federal Minister Omar Ayub Khan congratulated all the graduate students and their parents and teachers for their success. He added that he does not consider himself a guest but a host in Haripur University as it is his city and constituency and he considers himself a servant of this university. He assured the university administration of his full support. Referring to IT and MLT, he said that the present federal government has taken revolutionary steps in this regard. Licenses have been issued to Special IT Zone, Haripur and Pak-Austria Institute, Haripur.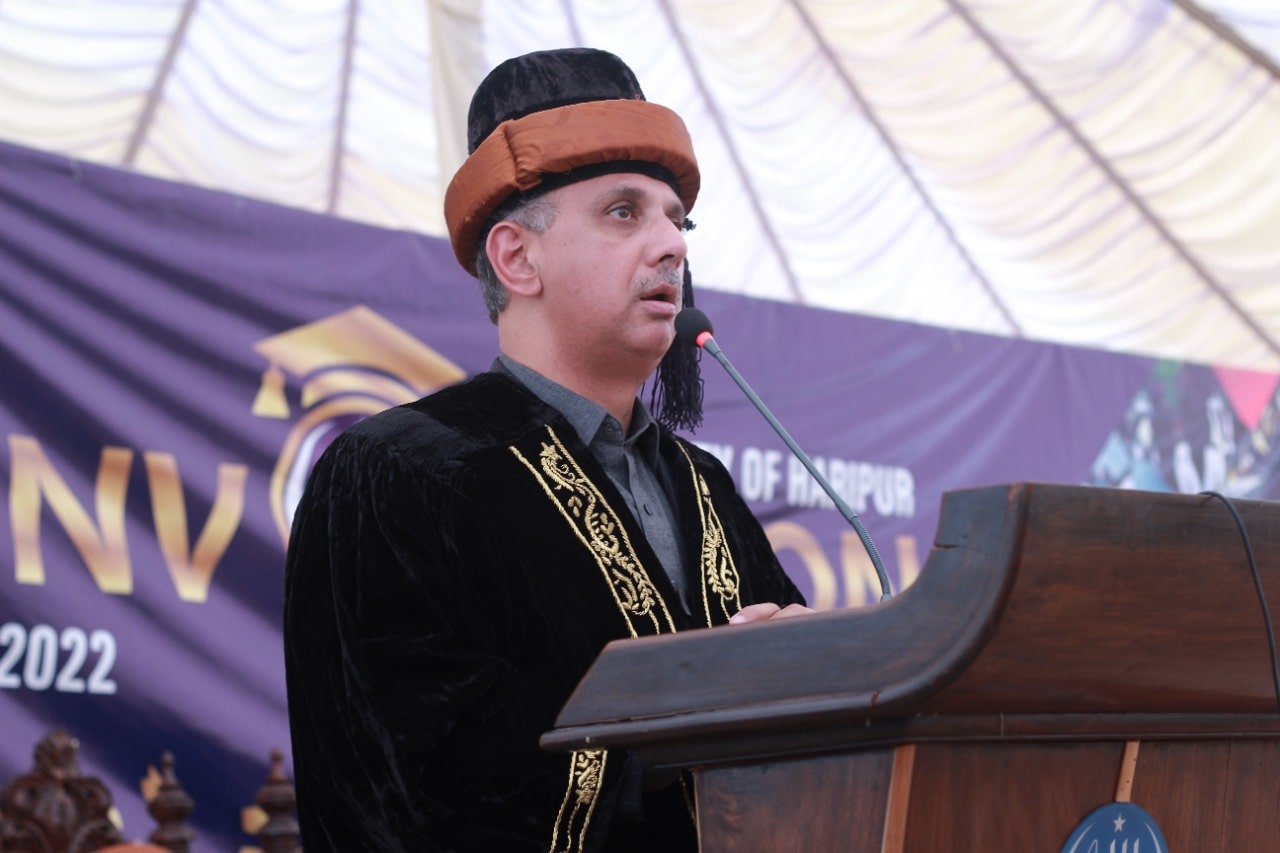 At the end, Chief Guest Minister for Higher Education and Pro Chancellor of the University, Kamran Khan Bangash also congratulated the graduates and their parents and teachers. He named "today is a special day for you and a beginning of a new era for them. He referred to Vice Chancellor Prof. Gilani speech and said that the biggest challenges for universities are quality assurance, economic growth and development, and under the patronage of Prof. Gilani, Haripur University has performed well in academic, economic and administrative indicators. He assured the Vice Chancellor of all possible cooperation regarding acquiring land and finally congratulated the university on today's successful convocation.