Exemplary Performance of The University of Haripur presented in 8th meeting of the Senate
The 8th meeting of the UoH Senate was held at Governor House Peshawar with Pro-Chancellor Khyber Pakhtunkhwa, Kamran Bangash in chair. The meeting was attended by the Vice Chancellor of the University of Haripur (UOH), Prof. Anwar Gilani (HI), MPA Arshad Ayub Khan, Representatives of HED, Chancellor' office, Establishment and Finance Ministries, Four Vice Chancellors, Community and Alumni representatives, UoH Registrar, Treasurer and other Senate members. Prof. Gilani presented the overall performance of last two years along with report on implementation of recommendations of previous meetings, and surplus budget for the year 2020-2021, along with budget estimates for the year 2021-2022, restructuring of faculties and departments, and plans for the upcoming years for consideration and approval.
According to the university spokesperson, after detail deliberations and discussion on different agenda items, the Senate approved the budget for the years of 2020-21 and 2021-22 as well as restructuring of Faculties and Departments unanimously with some suggestions. The Senate members noted that UOH has made some remarkable accomplishments during last three years under the dynamic leadership of Prof. Gilani, a Distinguished Professor decorated with three civil awards including Hilal-i-Imtiaz this year. Exemplary performance of the University includes controlling budget deficit, elimination of unionism, appointment of competent and senior faculty and administrative officers on merit, quality in education and research and reduction in expenditure and infrastructure development. These achievements of the UOH were fully appreciated in the meeting.
It was pointed out that prior to current Vice Chancellor the university faced multiple challenges which includes, two third employees on contract mostly with as long as 8-year service, only two Faculties with 19 departments, insufficient infrastructure, extreme shortage of senior faculty (only 03) and administrative officers but with strong employees Union and large number of court cases, employees demanding regularization without going through process. Similarly, the university had a budget deficit of 31 million, with less number of students (around 3200). However, during his tenure (less than 3 years to date), Prof. Gilani took revolutionized steps to place a young university in top ranked institutions of Pakistan.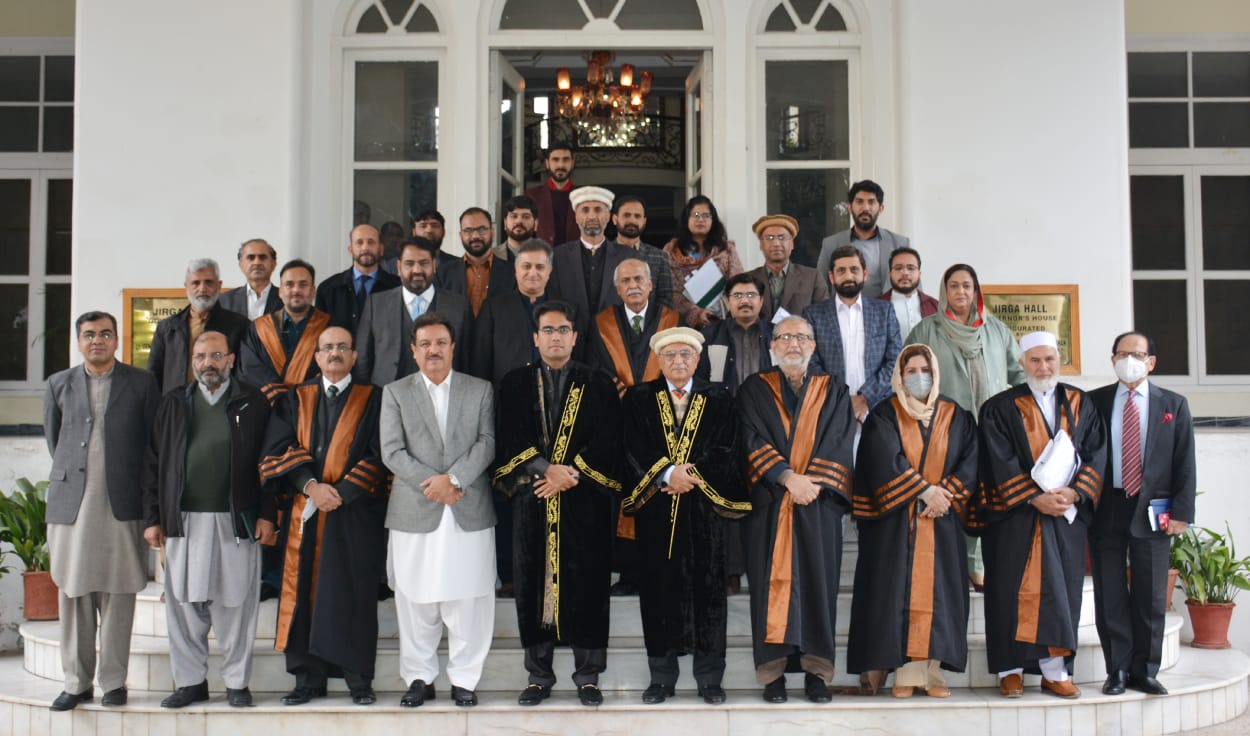 The Senate was briefed that based on series of selection boards (12), UoH today is a rare University where around 90 % of its employees hold regular appointments and has zero strength of daily wagers. In addition to infrastructure development (Rs. 1.5 billion project is in its full swing) University has achieved distinct academic growth during this period. The number of Faculties has increased from two to five, with 11 new departments (including 20 subjects) and 30 academic programs. The senior faculty now increased from 03 to 43 (10 Professors and 33 Associate Professors) based on promotions and new recruitment. Similarly, the number of faculty under tenure track system (TTS, considered to be means of academic and financial sustainability) has increased from 17 to 70. At the national level, the percentage of teachers having PhD degree in universities is around 35%, while at the UoH, teachers with PhD degree reached to over 70 %. The system of meritocracy has attracted distinguished professors of international repute to join the UOH. In a recent study conducted at the Stanford University, USA, seven faculty members of UoH led by Prof. Gilani were listed in top 2% scientists of the world, five of them were inducted during last two years, reflecting conducive environment and system of meritocracy prevailed at the UOH. Consequently, UoH attracted large number of students reaching to a total strength of 6400 (100 % increase in less than 3 years) with target of 7000 students in coming Spring Semester. Interestingly number of PhD programs grown to 22 and MS/M.Phil programs to 24. Hence, PhD student strength increased substantially from19 to 214 during last two and half years. The UOH is the 1st university in Pakistan offering PhD in Medical Lab Technology, a profession with high employability. Moreover, the UOH has won all court cases (26/26) and emerged as one of rare universities of Pakistan where no more Faculty or Staff Union exists reflecting satisfaction of its employees who are now focusing on work resulting in exceptional performance. The UoH is now well known to adopt HEC policies/directives quickly and is amongst rare Universities, which offered PhD admission according to new PhD policy of HEC despite having some reservations. Similarly, UoH may be the rare University in Pakistan, which has established following Centers: Center for Counselling and Social wellbeing, Disability Resource Center, Professional Development Center and Day Care Center.
The Vice Chancellor is taking extra-ordinary steps in cognizance with the Provincial government's directives to impart quality education, set a research environment, and to inculcate creative minds. Interestingly, UoH was amongst six universities of KP, which received Quality Assurance Award recently from HED presented by Mr. Kamran Bangash, who happened to Chair this Senate meeting and appreciated the tireless efforts and services of Prof. Gilani and his entire team for the rapid success of the UOH in a short time.