BIC, The University of Haripur Call for Applications for Start-ups
Business Incubation Center (BIC), The University of Haripur invites applications (on BIC Prescribe Form) from individuals (Faculty Members/Students of UoH and Community Members) for Incubation Program, a six month-long journey for Start-ups to develop Entrepreneurial and Leadership skills and helping them to explore the avenues of growth and sustainability. This program will promote the culture of Entrepreneurship and create a strong Start-up ecosystem in Pakistan.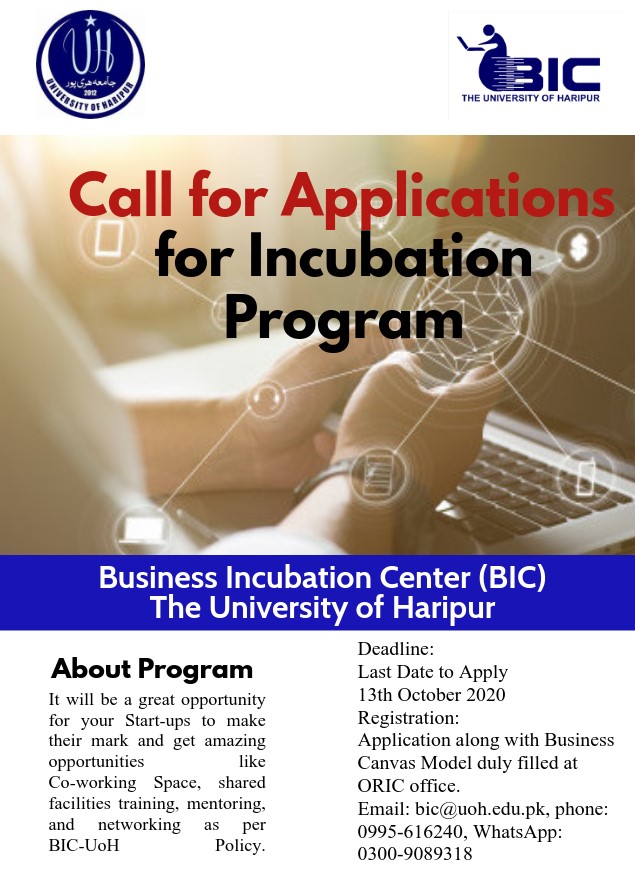 It will be a great opportunity for your Start-ups to make their mark and get amazing opportunities like Co-working Space, shared facilities training, mentoring, and networking as per BIC-UoH Policy.

Benefits of the Program
06 months Incubation Support for commercialization and expansion of Start-ups
Networking opportunities
Trainings and Workshops participation
Mentoring and Handholding opportunities with the experienced faculty and entrepreneurs.
Who Should Apply?
Startups having prototype/minimum viable product
Startups should be innovative and solving any problem
Startups having a feasible and sustainable business idea
Startups with high social impact can apply in the idea phase
Women-led startups will be given high priority
Registration:
Application along with Business Canvas Model duly filled.


Last Date to Apply
13th October 2020
Contact Details
Office Address: Office No. 318, 2nd Floor Admin Block, Office of Research Innovation and Commercialization (ORIC), The University of Haripur.
Email: bic@uoh.edu.pk, phone: 0995-616240, WhatsApp: 0300-9089318
For more details, please visit www.uoh.edu.pk