International Conference on Climate-Resilent Smart Soil Management Focusing Food Security, Ecosystems & Environment MARCH 5-7, 2020 at UOH
PURPOSE AND OBJECTIVES
Rapid increase in world population, anthropogenic greenhouse gases and heat trapping continued to increase the concentration of emissions in the atmosphere with direct impacts on our climate. Pakistan ranked amongst the top ten countries most vulnerable to climate change. During the last two decades, extreme temperatures in the country have triggered a series of catastrophic events such as floods (2010 and 2014), droughts (1998-2002), heat waves and extreme dry spells, cyclones, smog and other temperature extremes. Oceans, ecosystems, weather and human health all face impacts from climate change, and now valuable soils may also be affected. Soil is a non-renewable natural resource which serves as the foundation for agricultural development and ecosystem sustainability. Climate change may reduce the ability of soils to absorb water in many parts of the world. And that could have serious implications for groundwater supplies, food production and security, water runoff, biodiversity and ecosystems. In order to analyze challenges and opportunities to boost agriculture in changing climate by climate resilient smart soil management we are going to organize a three-day International Conference on CLIMATE-RESILIENT SMART SOIL MANAGEMENT Focusing Food Security, Ecosystems & Environment during March 5-7, 2020 at The University of Haripur, Haripur, Khyber Pakhtunkhwa, Pakistan. The specific objective of the event is to fill critical knowledge gaps and promote discussion among policy makers, food producers, scientists, practitioners and other stakeholders on solution to live in harmony with nature, and ultimately, achieve the sustainable development goals (SGDs) through the climate resilient smart soil management especially focusing on Focusing Food Security, Ecosystems & Environment.
CONFERENCE TOPICS
Soil Science
Climate Change
Bioremediation of pollutants
Biotic and abiotic stresses
Biotechnology and genetic engineering
Plant Science/Crop Science
Pharmacology
Food Science
Functional Foods
Horticulture
Pest and disease management
Nanoscience
Food Security

Plant and Animal Biodiversity
Marine Biodiversity
Vulnerable species
Sustainable Development
Threats to Biodiversity
Ecology and Biodiversity Conservation
Forestry and wild life management
Recent trends in Biological Sciences
Veterinary Sciences
Microbiology
Applied chemistry and Biochemistry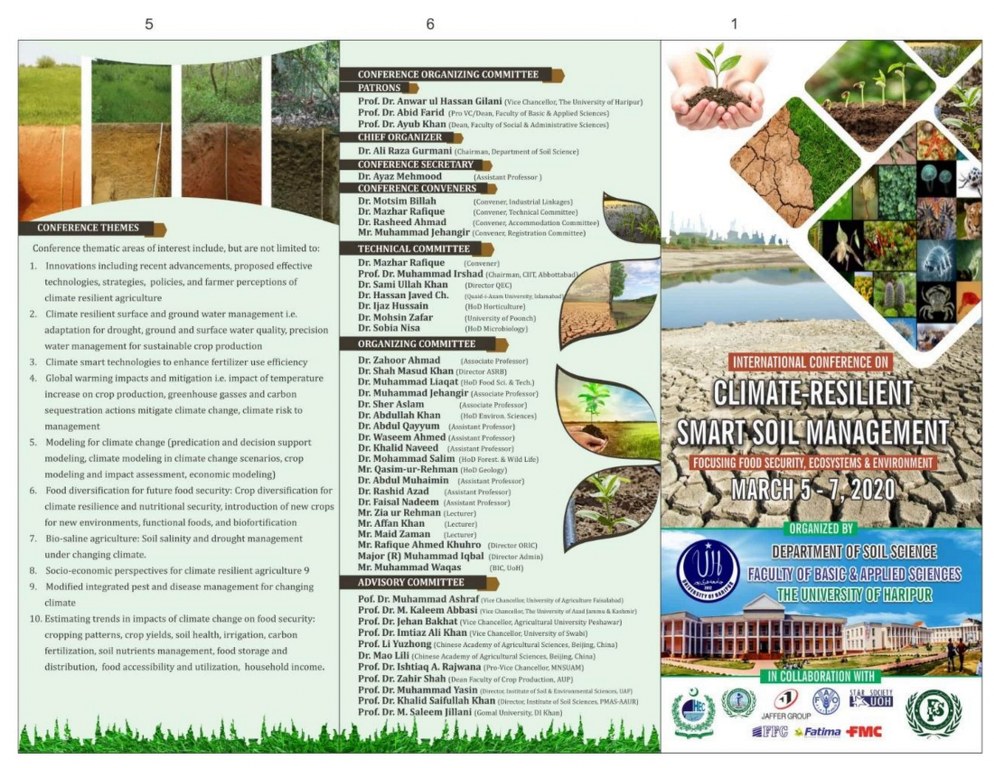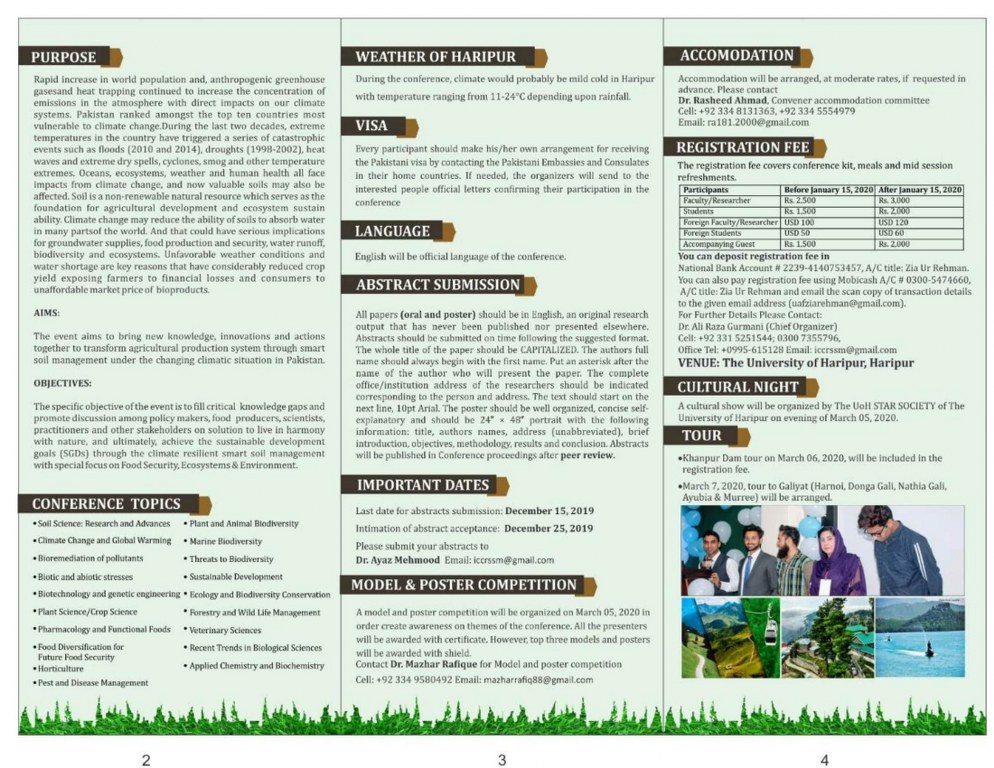 WEATHER OF HARIPUR
During the conference, climate would probably be mild cold in Haripur with temperature ranging from 11-24°C depending upon rainfall.
VISA
Every participant should make his/her own arrangement for receiving the Pakistani visa by
contacting the Pakistani Embassies and Consulates in their home countries. If needed, the organizers will send to the interested people official letters confirming their participation in the conference. Every possible assistance will be provided to facilitate the participants to get the visa.
LANGUAGE
English will be official language of the conference.
ABSTRACT SUBMISSION
All papers (oral and poster) are in English, an original research output that has never been published nor presented elsewhere. Abstracts should be submitted on time following the suggested format:
1. The whole title of the paper should be CAPITALIZED.
2. The authors full name should always begin with the first name. Put an asterisk after the name of the author who will present the paper. The complete office/institution address of the researchers should be indicated corresponding to the person and address.
3. The text should start on the next line, 10pt Arial.
4. Provide 3-6 keywords.
Poster paper maybe preliminary report of an ongoing research/study or a completed research report. The poster should be well organized, concise self-explanatory and should be 30″ × 40″ portrait with the following information: title, authors names, address (unabbreviated), brief introduction, objectives, methodology, results and conclusion. One of the authors should be present during the Poster Session. Abstracts will be published in Conference proceedings.
IMPORTANT DATES
Last date for abstracts submission: December 15, 2019
Intimation of abstract acceptance: December 25, 2019
Please submit your abstracts to Dr. Ayaz Mehmood Email: iccrssm@gmail.com
MODEL & POSTER COMPETITION
A model and poster competition will be organized on March 05, 2020 in order create awareness on themes of the conference. Students from the University of Haripur, and the students of graduation and intermediate of all the affiliated colleges in District Haripur are encouraged to participate. All the presenters will be awarded with certificate. However, top three models and poster will be awarded with shield.
Contact Dr. Mazhar Rafique for Model and poster competition
Cell: +92 334 9580492 Email: mazharrafiq88@gmail.com
TOURS
Khanpur Dam tour on March 06, 2020, will be included in the registration fee.
March 7, 2020, tour to Galiyat (Harnoi, Donga Gali, Nathia Gali, Ayubia and Murree) will be arranged.
CULTURAL SHOW
A cultural show will be organized by The UoH STAR SOCIETY of The University of Hripur on evening of March 05, 2020. Students of the university will perform funny poetry, funny drama, parodies, folk music and other different cultural segments to entertain the audience of the conference.
ACCOMODATION
Accommodation in the scenic valley of Abbottabad and in Haripur district may be arranged, at moderate rates, if requested in advance. Please contact
Dr. Rasheed Ahmad, Convener accommodation committee
Cell: +92 334 8131363 Email: ra181.2000@gmail.com

REGISTRATION FEE
The registration fee covers conference kit, meals and mid-session refreshments.
| | | |
| --- | --- | --- |
| Participants | Before January 15, 2020 | After January 15, 2020 |
| Faculty/Researcher | Rs. 2,500 | Rs. 3,000 |
| Students | Rs. 1,500 | Rs. 2,000 |
| Foreign Faculty/Researcher | USD 100 | USD 120 |
| Foreign Students | USD 50 | USD 60 |
| Accompanying Guest | Rs. 1,500 | Rs. 2,000 |
You can deposit registration fee in National Bank Account # 2239-4140753457, A/C title: Zia Ur Rehman. You can also pay registration fee using Mobicash A/C # 0300-5474660, A/C title: Zia Ur Rehman and email the scan copy of transaction details to the given email address (uafziarehman@gmail.com).
For Further Details Please Contact:
VENUE: The University of Haripur, Haripur