Ehsaas Undergraduate Scholarship Project launched by Govt of Pakistan & HEC
Government of Pakistan and Higher Education Commission (HEC) have jointly launched "Ehsaas Undergraduate Scholarship Project" to support students enrolled at undergraduate level in public sector universities. The scholarships will be awarded to students from low income families who have obtained admission on merit. Students in all years of undergraduate degree programs are eligible however, the scholarship will be given to cover remaining years of their undergraduate education, subject to the satisfactory academic performance. Furthermore, 50 per cent of the scholarships are reserved for female students, and 2 per cent for students with special needs.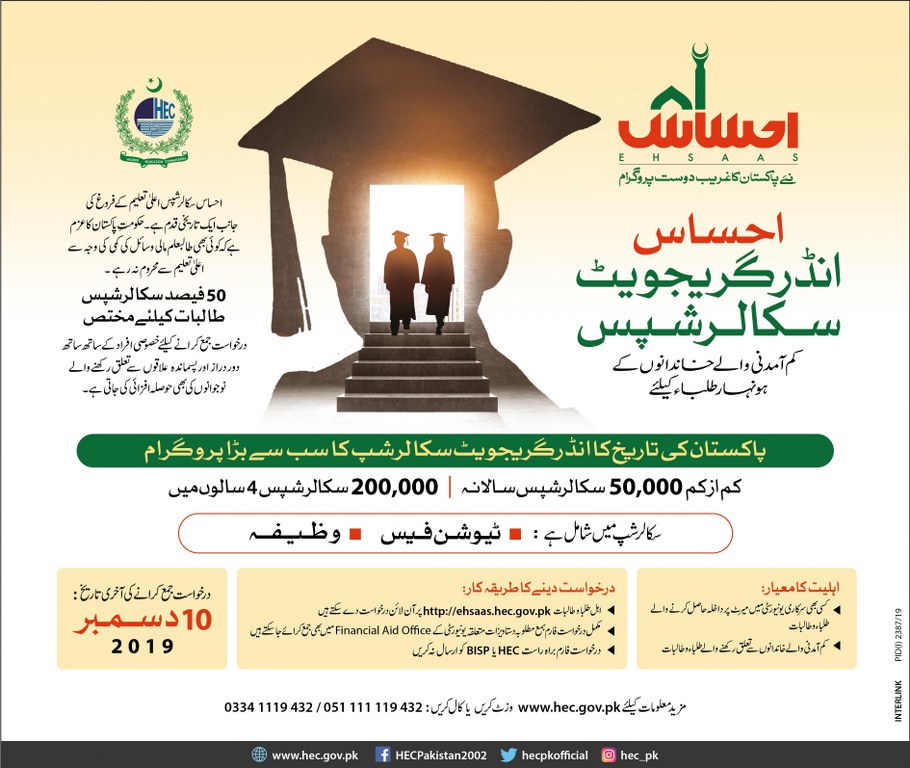 We are writing to seek your personal support in providing required information from your University/Institution for rapid operationalization of Ehsaas Undergraduate Scholarships Project. For projection and budgeting of each degree program, it is requested to please direct your relevant staff to provide us the following information on the enclosed template.
Current enrollment's data for l' to 4th year and 5th (in case of five years degree programs) and
Subject/Discipline and semester/year wise approved fee structures of regular session viz. tuition fee and incidental charges etc. of all undergraduate degree programs; In case of annual system, annual fee and incidental charges details will also be required.
We solicit your kind support for the provision of the information at twadood@hec.gov.pk maakhan@hec.gov.pkby November 18, 2019.