A meeting on Integrative Medicine with South Korean Delegate was Chaired by The Vice Chancellor at UOH
Minutes of the Meeting with South Korean Delegate
A meeting on Integrative Medicine was Chaired by the Vice Chancellor at The University of Haripur dated 5th November, 2019 with the following details:
Participants:
Dr. Anwar-ul-Hassan Gilani (The Vice Chancellor)
Dr. Sinim (South Korean Delegate)
Dr. Park (South Korean Delegate)
Dr. Abid Fareed (Dean FBAS)
Dr. Ayaz Kiyani (Adviser to Federal Minister)
Dr. Mumtaz Muhammadi (Head Public Halth)
Dr. Waqar Saeed (Assistant Professor Public Health)
Mr. M. Junaid (Additional Registrar)
Agenda Items:
Drug prescriptions are not the only solution for all health problems. Integrative/complementary medicine helps to fulfill the gaps left by conventional allopathic treatment.
How to incorporate and increase the acceptance of integrative medicine in current medical practices?
Action Items:
University will take necessary measures to highlight the importance of holistic medicine in recent times. University will organize lectures, workshops and seminars to increase the awareness of masses about the importance and proven efficacy of integrative medicine in curing chronic diseases such as diabetes, obesity, chronic stress, and hypertension.
Department of Public Health will take measures to effectively incorporate the components of integrative medicine in curriculum and future health-related activities.
Other Notes:
According to WHO, health is a state of complete physical, mental, and social well-being, not merely the absence of disease or infirmity. In recent days a substantial number of individuals do not entirely benefit from traditional allopathic medicine. These individuals are either on disease control therapies such as those for diabetes and hypertension or suffer from the limitation of traditional allopathic medicine. The term holistic medicine describes the therapies which attempt to treat the patient as a whole person. Integrative medicine, as part of holistic medicine, is the common name for health care practices that are not traditionally covered in conventional allopathic medicine. These include acupuncture, cupping therapy, cryotherapy, meditation, aromatherapy, traditional dietary supplements, and massage therapy.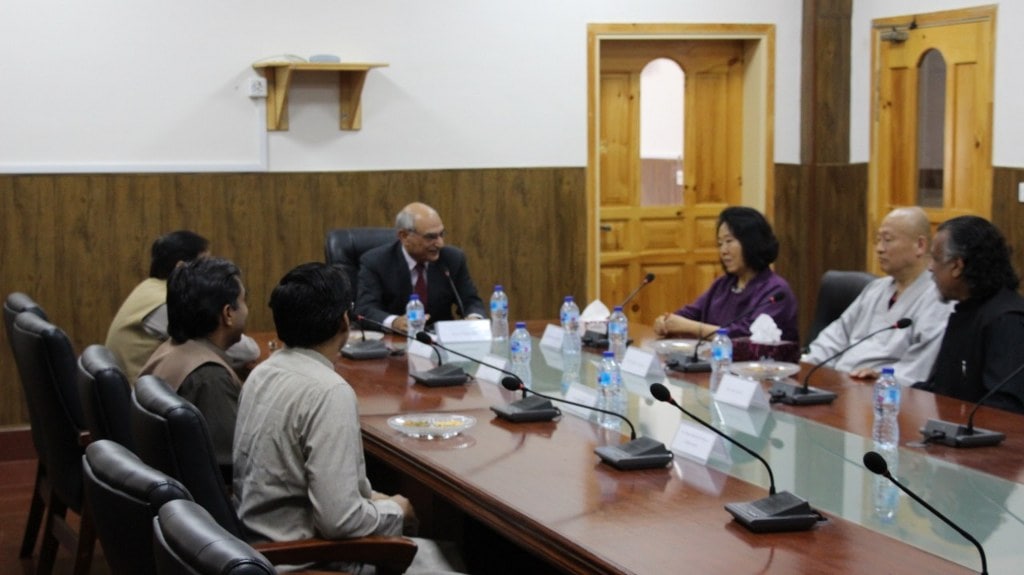 The meeting participants agreed on future relevance and importance of holistic and integrative medicine in fulfilling the health requirements of society. For this, a number of recommendations have been made. The university will conduct awareness lectures, seminar, activities and workshops to highlight the proven efficacy of integrative medicine in curing chronic diseases.