Institute of Management Sciences
Department of Management Sciences, UoH organized Workshop titled "Train The (Pitching Research) Trainers" at HEC, Islamabad

Resource person: Prof. Robert Faff (University of Queensland (UQ), Austarlia)
Venue: Main Auditorium, Higher education Commission, (HEC) Islamabad, Pakistan
Dated: Monday 10th September 2018
Timing: 1100hrs to 1300hrs
Workshop organizers: Mr. Imran Qadir (UoH, Pakistan) & Mr. Ihtisham Abdul Malik (UQ, Australia)
Event hosts: Department of Management Sciences, The University of Haripur
Participants: APPRC 2017-18 supervisors, mentors and winners, research mentors from Pakistani Universities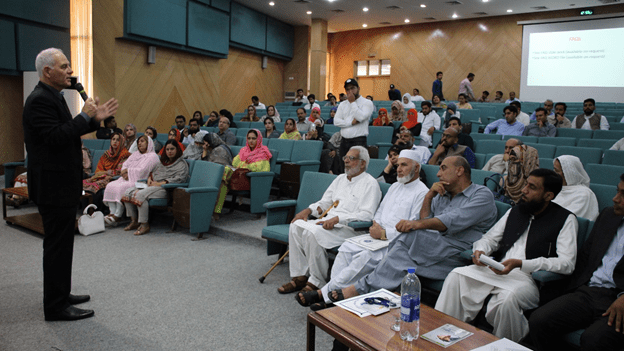 Workshop contents focused on capacity building of research mentors from all over Pakistan. The following key topics were covered by Prof. Robert Faff followed by an interactive Q&A session with participants:
Explain how the "pitch template" works and its the underlying philosophy?
Applications of PR framework – to develop student skills
How to read research pitches of students & giving feedback
Helpful Resources regarding pitching research concept
Dr. Abid Farid, Vice Chancellor, The University of Haripur presented shield to Prof. Robert Faff for conducting this valuable workshop for Pakistani research community.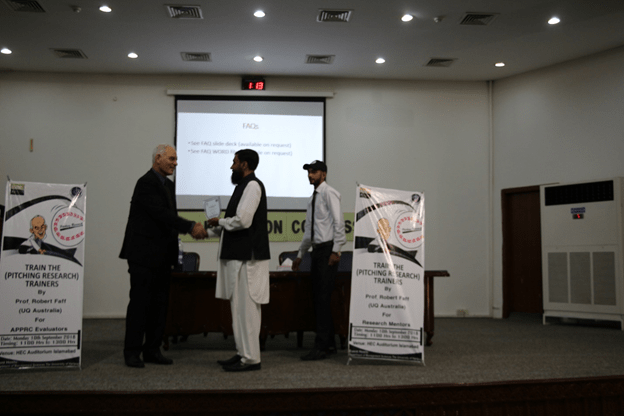 Dr. Suresh Kumar one of the participants from IBA, Sukkar presented traditional and cultural gifts to Prof. Robert Faff.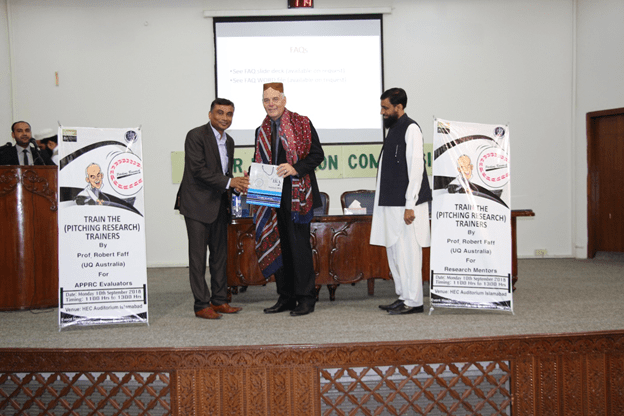 The session ended with a vote of thanks for the participants.