Incubates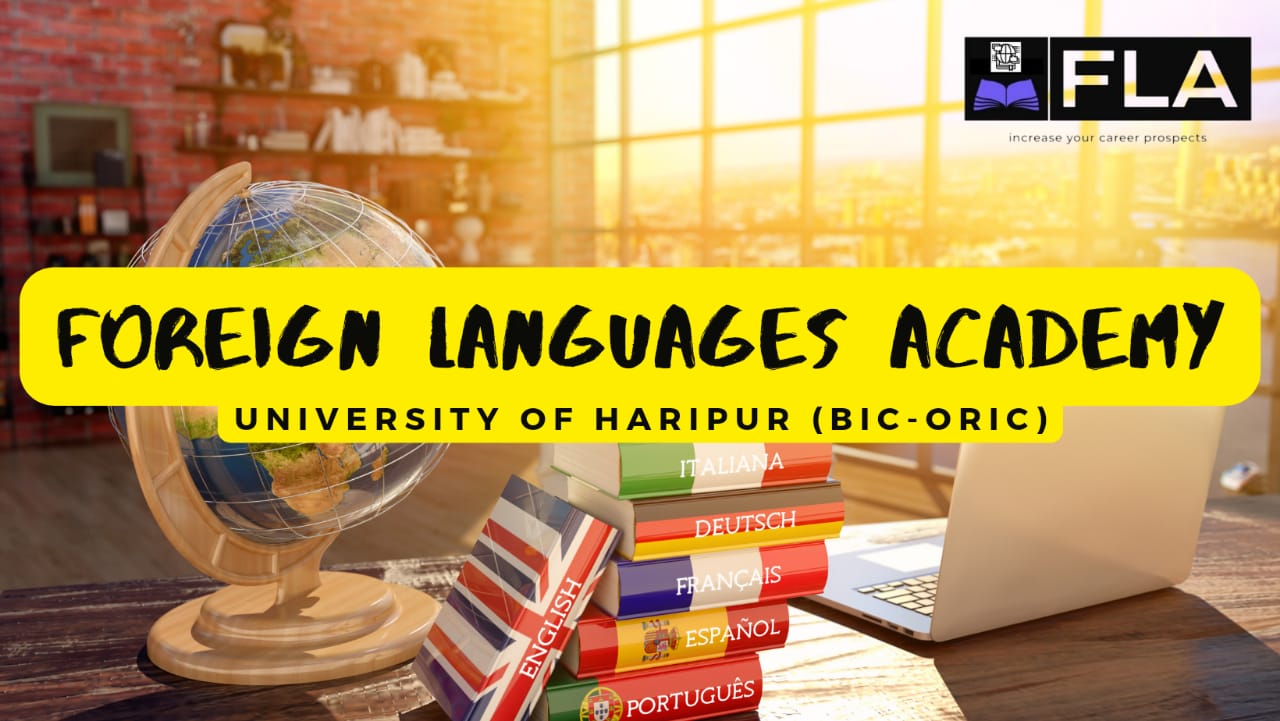 To fetch your need to learn foreign languages, The University of Haripur has approved a Foreign Languages Academy (FLA) at BIC. Initially FLA is enrolling for the following languages.
1. English (Spoken & IELTS).
2. German (A1- level).
3. Korean (KLT).
4. Chinese (Basic).
The faculty for each language has many years of teaching the respective language and has a history of success. The aim behind establishing this languages academy is to give The Haripur district a standardized language academy, which not only suffices for students but people of all cadre from district can take advantage.
Learning any of these languages will open new doors of opportunities for you in job, immigrations, scholarships, study abroad, jobs, interviews and online job, business and freelancing. Academy aims to guide students in creating income after learning the respective language.
Click on the following link to apply online.
https://forms.gle/no4D1SQmPGEg5Ucw6
Contact: FLA, BIC/ORIC, Block A, UoH.
Call:
MD: Naveed Termezi 03112352926
Admin: Nimra 03145527369

FPTFC 'Federal and Provincial Tax Facilitators and Consultants' is a family owned and operated business offering bookkeeping and tax services. Fahad Khan and Qurban Ali Shah are committed to their clients' needs and can offer knowledge which can only be gained by years of experience. FPTFC is open year round and both Fahad Khan and Qurban Ali Shah are available throughout the year to help answer any questions or concerns you may have.
We deal in:
Preparation and filing of Income tax, Sales Tax and Excise returns,
Follow up of taxation affairs,
Representation of clients for assessment / audit procedures and preparing,
Filing and proceeding for appeals.
Tribunal Hearings
Income Tax and Related Services
Sales Tax (GST / VAT)
Email: fptfc2001@gmail.com
Contact: +923335078389
---
SolXprtz is a Consultancy Firm based in Haripur and will serve around the nation, who provide different kind of services to the Business and Community. Working areas
Customized printing
Training and Development
Event Management
IT Solutions
Photography
Marketing Solutions
Business Consultant and Much more
Email: solxprtz@gmail.com
Contact: 0300-9089318
---
Mr. Saeed Akhtar
Lexicon solar technology is focused on providing energy efficient solution for residential, commercial, industrial and agricultural sectors. Lexicon solar technology envisions bringing Pakistan one step closer to renewable energy technologies, for it to become green country. The fossil fuels being the largest contributors for energy production around the world are also responsible for polluting our earth. Fossil fuel-based energy solutions (oil and gas) are also a burden on our import bill and economy. Through renewable energy solutions, we can improve not only the country's economy, but its environment as well. For the very purpose we intend to utilize energy efficient technologies such as, home appliances fluorescent lights, led lights, Solar Tube well, Solar Pump Home Solar Hybrid System and other appliances on solar technology. The sun is almost a constant – it will always be there and is, therefore, a reliable and eternally renewable source of energy. Solar panels also known as solar photovoltaic (PV), the array of solar cells is designed to capture the sun's rays, to generate electricity. These cells do not need bright sunlight to work; they just need daylight, meaning that even on a cloudy day they are likely to generate electricity. Thus, converting power of the sun into electricity, after the initial installation cost of the system, the electricity acquired is practically free. In Pakistan, we have a huge potential in solar as compare to other renewable energy technologies e.g. wind, biofuels, fuel cells etc. therefore, our focus is the maximum utilization of solar energy. Lexicon solar technology is also offering it services in other energy technologies and it has a team of experienced professionals for this purpose. We also contribute with our best efforts in energy efficient building designs, and energy management. We also provide consultancy services in Tube well projects (at residential and commercial sector) and efficient energy storage systems. Lexicon Solar Technology Company cooperating successfully with our customers and the sun, we have been solar pioneers from the very beginning.
Email: lexiconsolartechnolgy@gmail.com
LEXICON SOLAR TECHNOLOGY
---
We make high quality home made cuisine with best quality ingridiants. Our special offer is for low calories food range for Diabatic and hyper tension customers. We offer high end traditional dishes from all over Pakistan to children loving fast food items. You can chose from our best and finger licking ITALIAN cuisine.
Contact us: 0333-5860955 (whatsapp available) & 0995-612923
Face book link : https://www.facebook.com/Sams-Kitchen
---

Sapphire Innovations is a creative and ingenious business for designing various handicrafts from recyclable and reusable materials by empowering women and making them a skillful, productive and participative unit of the economy. With the motto of "Recycle today for a better tomorrow" we are focused to protect the environment by acting as green entrepreneurs. In addition, all artisans and people who are making any handmade item can work with us.
Neelam Akhtar
Phone: 03115802281
Email: sapphireinnov@gmail.com
Facdebook: https://www.facebook.com/Sapphiredecore/
---

Halal Assessment & Certification Institute Pvt. Ltd.
(HACI) is a Pakistan based organization that struggle to make sure the availability of Halal products to Muslim consumers as a consumer right.
Our headquartered is in Rawalpindi (Punjab), Pakistan and maintains our activities all over Pakistan. Mainly our team is located in all major cities that includes (but not limited to), Abbottabad, Islamabad, Karachi, Lahore, Peshawar.
HACI deals in Halal Assessment & Certification process for all categories of consumer goods that includes following:
Processed and un-processed food.
Drinks (We don't deal with beer, wine or similar products even if it is claimed to be non-alcoholic).
Feed.
Pharmaceuticals.
Cosmetics
Packaging materials.
Sanitation chemicals.
Our Mission
Implement Islamic food laws as a duty to Muslim society.
Make sure the availability of Halal food to consumer who pays to eat Halal.
Develop a sustainable Halal Tayyab Assurance System.
Make awareness among consumer about importance of Halal consumption and role of Halal Certification in it.
Standing among brother Muslim Halal Certifiers as a respectable and trustable Institute on equality bases.
Dr. Muhammad Jahangir
Director ORIC/ Assistant Professor Department of Agricultural Sciences (The University of Haripur)
CEO/Managing Director HACI
m.jahangir@uoh.edu.pk