MORE ABOUT US
ABOUT UNIVERSITY OF HARIPUR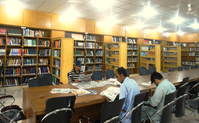 Our Motto Is To "Restoring Hope; Building Community".
The establishment of University of Haripur (UoH) is an important milestone in the history of higher education in Hazara region of Khyber Pakhtunkhwa, Pakistan; a region which entails the international Karakorum Highway.
There was a strong motivation to establish UoH and a significant coherence among the potential stakeholders regarding the direction that such a project should take. The motivation can be supported by (unofficially validated) estimates which suggest that in 2017-18 approximately 8,000-10,000 pupils will be enrolled in the University with the completion of proposed physical and academic infrastructure. Having education at all levels with strong Islamic foundations is important for the nation as a whole and we firmly believe that education should be focused on providing principled, morally motivated leaders to serve the country - a new generation of leaders who understand the need for justice and peace in Pakistan. It is an understood notion that the UoH shall have a globally recognized validation.